It's commonly known that acclaimed 20th century American artist Georgia O'Keeffe (1887-1986) was married to photographer Alfred Stieglitz during the early rise of her career until his death in 1946. Lesser-known, however, is that O'Keeffe had deep relations with various women. And in a case of art imitating life, a new exhibition at The Phillips Collection provides an opportunity to see another lesser explored side of Georgia O'Keeffe — Abstractions, a collection of more than 100 paintings, drawings, watercolors and sculpture dating from 1915 to the late 1970s, as well as 14 photographic portraits of O'Keeffe by Steiglitz. Many of the works in the exhibition are in sharp contrast to the representational and realistic images of flowers, animal bones and landscapes that have so defined O'Keeffe for the last century.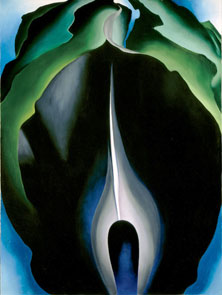 "It is a long overdue acknowledgement of her place as one of America's first abstract artists and furthers our shared commitment to advancing a more complete understanding of the history of American abstraction," says Dorothy Kosinski, director of the Phillips, which has produced the exhibition in partnership with New York's Whitney Museum of American Art and Santa Fe's Georgia O'Keeffe Museum.
The mission to provide a fresh perspective is set from the beginning as the first gallery in the exhibition is lined with early charcoals of simple lines and swirly wave formations that are void of the vibrant colors commonly associated with O'Keeffe. As you move through the galleries, you become witness to how O'Keeffe was frequently pulled back to her abstract roots throughout her entire life. This is easily seen in the exhibition via a series of five oil paintings of a Jack-in-the-Pulpit, as O'Keeffe transitions from a realistic painting of the flower to less and less representational forms.
In her 1976 book, Some Memories of Drawings, O'Keeffe writes, "It is surprising to me to see how many people separate the objective from the abstract. Objective painting is not good painting unless it is good in the abstract sense." This groundbreaking exhibition clearly shows that O'Keeffe lived these words in her art, just as she may have lived them in her personal life.
Georgia O'Keeffe: Abstractions is on view at the Phillips, 1600 21st St. NW, to May 9. Call 202-387-2151 or visit phillipscollection.org.