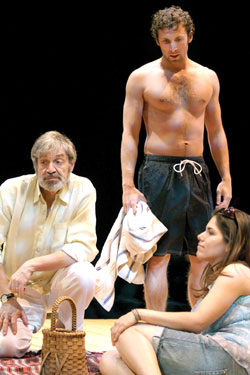 Beauty of the Father
(Photo by Daniel Troconis)
There is an undeniable excitement that comes from talking to playwright Nilo Cruz. It's not a kind of idol worship. Not the realization that one is talking to the first Latino to win a Pulitzer Prize for Drama (Anna in the Tropics, 2003). Not the fact that this is an openly gay man who has rightly earned respect for his unique vision and talent. It's not even the gracious generosity he demonstrates when answering the kinds of small, sometimes awkward questions interviewers ask.
It's his passion for writing that shines most brightly, the desire to open new doors and uncover untold stories. It's his habit of using the word "intrigued" in his responses, as in, "I was intrigued by…"
"One of the things that I love about fiction and theater is that a writer gets to ask the question, 'What if?'" says Cruz. "What if this was to happen? What if we were to create this kind of reality?"
It's that "what if" that has led the Cuban-American playwright to gather together a collection of characters for his plays that have included tango dancers and angels, Russians and lost kites, cigar makers, painters, and poets who have long since passed into another place.
"I start with a concept or a character and then I just go on a journey with them to see where the play goes," he says. "These creations are like children. You guide them, but, after a certain amount of time, they have their own life that they need to live."
Of course, children don't always behave the way one would expect them to. Such is the case in Cruz's unexpected love story Beauty of the Father, currently playing at D.C.'s GALA Hispanic Theatre.
"It's not every day that a father and a daughter fall in love with the same man…. That's the beauty of theater."
And that's the brilliance of Nilo Cruz. '
Beauty of the Father runs through Feb. 28 at GALA Hispanic Theatre at Tivoli Square, 3333 14th St. NW. Tickets are $32 to $36. Call 202-234-7174 or visit galatheatre.org.