If rumors of Synetic Theater's Euro-Slavic techno scores, not-so-classical dancing, and penchant for interpreting Shakespeare minus the spoken word have repelled rather than attracted you, it's time to relent. True though the rumors may be, Synetic's powerful, cerebral, and always riveting physical theater belongs amid the season tickets of anyone considering themselves patrons (and indeed students) of culture.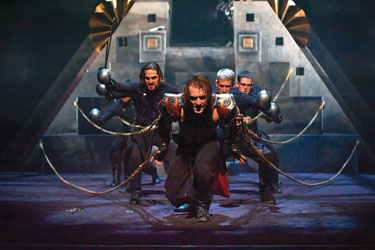 Antony and Cleopatra
The troupe's latest production, a danced/mimed impression of Shakespeare's Antony and Cleopatra, is a perfect case in point. A piece of dark creative energy, choreographer Irina Tsikurishvili moves her performers through the narrative like an ancient mythical painting that changes before your eyes. One minute she commands space and composition with a constellation of moving bodies, the next she has drawn us down into the laser-like intimacy of a pas de deux.
It's an ebb and flow carried beautifully by director Paata Tsikurishvili, also the adapter (along with Nathan Weinberger), who, for want of a better word, is an exceptional editor. He knows just how long to allow an image or mood to linger, when to hasten a segue and when to allow a scene to disintegrate molecule by molecule. Synetic speaks to us not only though music, dance and mime, but also through the rhythms of their narratives.
Sensibly, Synetic's Antony and Cleopatra does not adhere slavishly to Shakespeare's play, choosing instead to keep the politics schematic and the emphasis more on the dynamics of Antony's engagement with Cleopatra and the growing outrage of the Roman leadership, spearheaded by Octavian, as Antony begins to spend more and more time in Egypt. As tensions in the Roman Senate mount and Octavian challenges his co-leader Antony, we are treated to Synetic at its storytelling best, with movement, dance and theater blended with flair, originality and edge. The balance is pitch-perfect here, allowing for the subtlest of interactions and yet also the evocation of epic land and sea battles.
Taking the role of Cleopatra, Ms. Tsikurishvili brings an intensely credible gravitas to this remarkable woman. With her highly expressive movements and a face that speaks volumes, she shows us how tightly controlled Cleopatra is and how she struggles within to keep this control as she gives way to the phenomenon of Antony. As lithe as any 20-year-old, Cleopatra presents as emotionally older and wiser than Antony, a woman with enough knowledge of life to treasure him and hunger for him with a depth unimaginable to the young nubiles wriggling about her palace. Her rendering of this woman's passion and her agony as fate begins to intervene, offers us the essence of impossible love.
As Antony, Ben Cunis, though at first unassuming, almost magically evolves into an archetype of romantic love, a man offering equal measures valor and vulnerability, passion and chivalrous abeyance as he courts and then craves Cleopatra. As the two lovers clash and connect, Cunis cuts an exceptional figure. He's a sure and artistic mover, not classically trained and yet achieving that expression of arduous, noble love that many a man in tights can only hope for. He and Tsikurishvili set the stage on fire.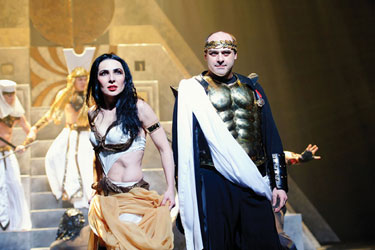 (Photo by Graeme B. Shaw)
The powerful duo is flanked by two other standout performances — Alex Mills as Mardian, Cleopatra's mysterious servant, and Philip Fletcher as the volatile Octavian. Mills, an extraordinarily versatile dancer/actor, creates a most otherworldly being in his Mardian, an evocative and memorable presence. Fletcher, a strong actor and nicely understated, fluid dancer, gives Octavian real personality as he rages against Antony.
ANTONY AND CLEOPATRA





To Feb. 28
Lansburgh Theatre
450 7th St. NW
$40-$55
202-547-1122
synetictheater.org
Finally, mention must be made of Irakli Kavsadze in the small, non-danced role of Caesar. Though he interacts with Cleopatra almost by way of prelude, Kavsadze brings a remarkable presence. He's a great bear of a man with the subtlest of promising smiles. And as sound designer, Kavsadze gives depth, dimension, heartbeat, and even a dreamy bit of trip-hop, to the production.
Suffice to say, this is performance art for the dark at heart.