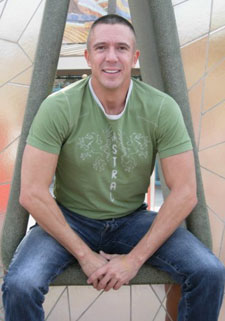 Bob Agnew
(Photo courtesy of Troy Elmore)
Two gay men were found dead in a San Diego apartment on Friday, Feb. 5, in what San Diego police have labeled a murder-suicide. The alleged shooter in the tragedy was Robert Bob Agnew, a former Fairfax, Va. resident, who moved to San Diego last year to earn a master's degree.
Police say he shot ex-boyfriend Eric Schulthise, a 40-year-old beloved member of San Diego's LGBT community, several times before turning the gun on himself.
Some of Agnew's friends who live in metropolitan Washington kept in touch with the 41-year-old former Naval Academy professor, who frequented Cobalt and the DC Eagle, and often traveled from D.C. to Arizona to visit his ailing father.
As news spread about the murder-suicide this week, friends like Troy Elmore, a former metro-D.C. resident who now lives in Ft. Lauderdale, remained in shock.
"It's heartbreaking," Elmore says. "All of us are just numb, because that was not the Bob we knew, to do something so heinous."
"I talked to him the day before he did this. He just called and said he was going to come and visit, and talked about what was going on in his life. We all knew he was in a little bit of a troubled relationship, but nothing of that magnitude. I think they had broken up and were just trying to work through it."
Ivan Gautier, a casual friend of Agnew's who lives in Lorton, Va., says when he first heard the news, he thought Agnew was the victim.
"Because the Bob that I knew, I just could never imagine he would take anyone's life, or his own."
San Diego police discovered the bodies on Friday, Feb. 5, during a welfare check prompted by calls from a co-worker of Schulthise's.
Local resident Tim Woody first discovered the news on Facebook.
"It was hard to hit erase on the phone number on my phone, because I used to get a phone call from him, you know, 'I'm back in town,' — I'm just shocked. It just baffled me. Suicide affects more than what people think it does. Suicide is selfish. I think this was not an intended suicide. There is a chance that he saw what he did, and saw there is no way out."
San Diego resident Nate Owen describes Schulthise, who worked at Sea World and danced at two monthly bear events, as "inviting" and "full of life."
"He enjoyed the company of others. He was always welcoming of new people into the community."
Owen says he immediately learned of the deaths as local press broke the story earlier this month.
"It was complete out of the blue, utter shock," he says, adding that the couple had broken towards the end of 2009.
"Bob was still very fixed on Eric and just really wanted to be with him. Eric on the other hand did not want to be that serious with Bob anymore. He wanted it to be more casual, and friends. Bob persisted and really wanted to be more than that."
Owen says a celebration of Schulthise's life is planned in San Diego for Feb. 28. According to Elmore, Agnew's sister is planning a memorial for friends and family of Agnew in Washington this spring.