The only thing sweeter than a box full chocolates on Valentine's Day is a box made of chocolate. Available for $38 — or in a special, though inedible, gift box for $46 — it's just one of the many sweet items you will find inside Locolat Café.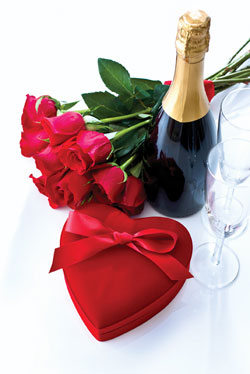 Not to mention the sweet items in the box.
"It's going to be filled with chocolate truffles," says Neil Piferoen, Locolat's owner and pastry chef.
For shoppers looking for something a little more subtle, Piferoen suggest smaller gift boxes starting at $13, or a stop at the Belgian-chocolate café on Feb. 14 for chocolate fondue and champagne, $35 for two.
"Depending on how much you want to spend, we can pretty much find something in your budget."
Piferoen says that includes boxes filled with the store's most popular candies: caramel sea salt or strawberry-pomegranate chocolate.
And while Valentine's Day has evolved beyond red roses, Josh Fredo, owner of Leesburg's Fleur De Lune, says the classic red sentiment is still in style: "Red is the symbol of love."
Fleur De Lune will be selling a dozen red roses with baby's breath and a bow in a vase for $74.99, or in a box for $69.99.
For those seeking something a little edgier, Fredo suggests a tropical arrangement, "like birds-of-paradise, or orchids, all of which we carry as well.
"We also do an arrangement where we take 'bells of Ireland' and shape it into a heart and put tropical flowers underneath it. We even do a special for Valentine's Day, a round arrangement of red carnations, pink carnations and white mums for $19.99."
If flowers and chocolates leave you wanting, Cindy Belcher suggests a stop at one of the Pleasure Place's D.C. stores.
"There's more than just roses and bonbons," Belcher, general manager of the Georgetown store, says. "Go beyond the bonbons, please."
For the fellas, she suggests underwear to spice things up on Valentine's Day, starting at $20.
"We have little fetish-y underwear for guys with open pieces. Something for the vanilla to the super-kinky," Belcher says, adding that 'tis the season to be "a little sexier."
"When guys come in looking for something for their boyfriends, maybe they're going to get something that's a little different than their tighty-whities."
For the ladies, Belcher says the Pleasure Place offers "Vixskin dildos," made for women by women.
Available in a variety of colors and sizes, starting at $90, Belcher says they're pricier than similar toys, which start at $50, because the Vixskin material is closer to the real deal.
"It's more flesh-like. Those do tend to be popular, and even though they're more luxurious in price, it's an investment," she says. "It's kind of an extension of yourself. You want to put your best foot forward."
The Pleasure Place is celebrating 30 years of providing many different options for everyone, from vanilla to kinky to in between. From massage oils, edible lubes, restraints, prostate stimulators and on and on, Belcher says there's really something for everyone.
"This is our season," Belcher adds, "and we are the type of store you need to come to. Valentine's is Pleasure Place time."
Fleur De Lune is located at 2B Loudoun St. SW, in Leesburg, Va. Call 571-291-2413, or visit fleurdelunestore.com.
Locolat Café is located at 1781 Florida Ave. NW. Call 202-518-2570.
Pleasure Place's Dupont Circle store is at 1710 Connecticut Ave. NW. The Georgetown store is at 1063 Wisconsin Ave. NW. Call 202-333-8570 or visit pleasureplace.com.