Tegan and Sara Quin actually look like twins on the cover of Sainthood.
"For years we rejected this twin image, people always trying to twin us," says Tegan, laughing. "So just when people got over it we decided to really run with it."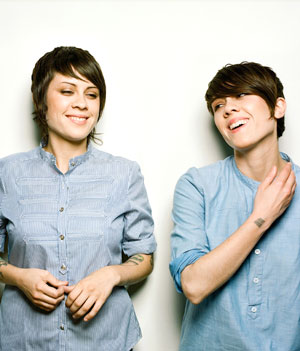 Tegan & Sara
Inspired by a nearly century-old photo of two brothers, the sisters wear horizontal-striped black-and-white pullover shirts on the album's cover and fashioned their black hair in similar bobs.
"I think we always resisted this image as sisters who were best friends and shared clothes," adds Sara. "When we first started out in the [music] industry, people would try to define our relationship or talk about our relationship. It was almost like people would tell the story about how we should have been."
The Canadian band Tegan & Sara — fronted by lesbian identical twins but also including other non-related supporting musicians — are not, as Tegan puts it, an "overly twin-y band." The band's 29-year-old leaders have worked hard to keep the focus on the music, characterized by tight vocal harmonies, clever lyrics, cute melodies and generally playful pop sensibilities, with the occasional spark of punk heat. The band has released six studio albums in more than a decade.
In recent years Tegan & Sara has garnered more attention through work with Death Cab for Cutie, dance music giant Tiesto, and Cyndi Lauper. Among other festivals over the years, from Lilith Fair to Coachella, the band performed on the 2008 True Colors Tour, which stopped at DAR Constitution Hall. Next Wednesday, Feb. 17, they'll return to D.C., performing at the Warner Theatre. The band has a new lighting director, giving the show what Tegan calls "a more theatrical feel to it," and will play selections from its past few albums. As per custom, the twins will amusingly banter and humorously bicker onstage.
"Yes, lots of chatting," says Tegan. "It's compulsive at this point."
Though they share "a very intense bond," the twins weren't inseparable growing up in Calgary, just as they aren't inseparable now.
"We were definitely in each other's social circle, but we didn't completely rely on each other," says Sara. The youngest – eight minutes behind Tegan – Sara was the first to own up to her sexuality. But it went unspoken until after high school.
"I was involved with a girl all through high school, and Tegan knew that," says Sara. "We just never really talked about it. It didn't seem weird as a teenager to not talk about it. But as soon as I got out of high school, all of a sudden it was important for me to define that and use that language. And so I was the first one to start saying, 'I'm gay. I'm dating a woman.' Tegan didn't come out right away — she was still dating a guy."
"I never really thought about it," Tegan says. "But then I thought, 'Well, Sara's gay, so I must be.' I felt like because our family was so progressive and our friends were so progressive, it was really easy not to have to say one way or the other. I knew that I liked girls but I also had boyfriends and felt okay about that.
"I had to test a few models first," she laughs. Once she fell in love with a girl after high school, Tegan knew for sure where her proclivities fell.
Both are convinced being gay is genetic. "I think that we can control our impulses," says Sara, "but what we're attracted to in human beings, whatever the gender, whatever the sexuality, I think that that's all science. Tegan and I: identical twins, same egg splits. It makes complete sense that we would both be gay."
"We only have relationships with a few immediate cousins," adds Tegan. "But I definitely have heard that there are more gay people [in the family]. Lots of twins and lots of gay people apparently."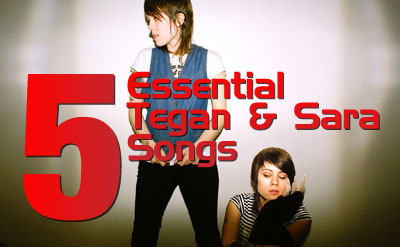 The Quin twins were closer before their teenage years, says Tegan. Their parents divorced when the two were 5. "We were really nervous kids, so we really banded together [after the divorce] and we really loved each other and looked out for one another until we got to our teens. That's when we really started to become autonomous from one another."
Pre-teen, the girls were enamored with being grown-up, spending all their time with adults, especially their parents and grandparents. "I think we've always had this instinct," explains Tegan. "We've always been able to associate with people older than us."
"Our parents were really young and didn't have a lot of money," explains Sara. "We didn't have babysitters very often, and my parents would bring us to functions. … We were the most well-behaved, quiet kids because we wanted to play cards with my grandparents. We wanted to be included when they would have parties in the basement, with bands playing. We didn't want anyone to notice us in a way like, 'Oh, the kids are still up, send them to bed."'
It was learned behavior that aided them on their first tour right out of high school, opening for Neil Young and The Pretenders. "We were able to hang around backstage and chat with the crew and management and all these people because we weren't drunk and being crazy, being little rock stars. We were nerds. We were like, 'Oh, we're here kind of on a school project. Can we ask you about the infrastructure of your business?"' She laughs at the memory.
When not consumed with music, the girls channeled their nervous, youthful energy into playing sports. There was no doll-play, no makeup, no gossip. "Tegan and I were tomboys," Sara explains. "We learned karate and took swim lessons and beat each other up. There was a real masculinity about our behavior. I think we became amazing collaborators because of that. It's less about sharing and more about constructively building things together."