As marriage equality takes greater hold in America, it's no surprise that gay couples are showing up in marriage-license lines or gazing over wedding bands at jewelry shops. Also not surprising, but still disappointing, is the homophobic pushback.
Just ask Gregory Jones and Jonathan Howard, both 29, who are engaged.
Competing against several other couples for Crate and Barrel and Daily Candy's collaborative "Ultimate Wedding" giveaway, the local couple made it to the No. 1 slot on Wednesday, Feb. 24, thanks to the votes from the public.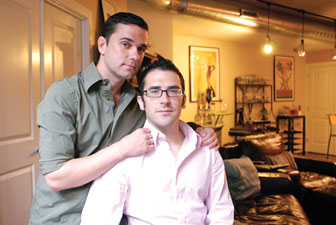 Gregory Jones & Jonathan Howard
(Photo by (Photo by Todd Franson)
"I was in the middle of a meeting when Greg sent me a message saying his heart was racing," Howard says. "I don't think realistically we ever thought that the community would come out and support us as much as they did and that we'd get to the level that we got to."
Jones and Howard, engaged since October and hoping to wed in an area vineyard, caught the attention of the local LGBT community after moving to D.C. last year. They were recovering from a hate-crime attack in Boston, where they had been living, and shared their story in Metro Weekly.
Despite the happy news about the contest, they were about to be attacked again. This time, in the virtual world.
Two days after they claimed the No. 1 slot, another couple took the lead: Mary Cole and her husband, Densey Cole, a Chicago police officer who was paralyzed following a head-on collision in May. The couple wed in a hospital in July and their story won the hearts of voters on Crate and Barrel's website.
"They've gone through a lot together and their story is very touching," Jones says. "It's very apparent how much they do love each other."
The Coles' inspirational tale of perseverance put them above all others, including Ed and Erwin, a gay couple who are raising two kids in Sterling, Va., and dealing with Erwin's terminal lung cancer.
But sifting through the several supportive sites and articles about the Coles on Google, Howard came across one blog site that left him disturbed: "Detective Shaved Longcock."
The anonymous blogger who runs the site on Google's Blogspot, which protects the identify of its bloggers, claims to have over 5 million viewers, and also claims to be a police officer in Chicago.
On Feb. 26, the same day that Howard and Jones fell to the No. 2 slot, the blog's administrator posted a message stating: "I am not politically correct and never will be. Period! I am not going to let this fruit loop couple beat one of our own! UNREAL! And so help me God, if this GAY COUPLE WINS I WILL NEVER EVER SPEND ANOTHER DOLLAR AT CRATE AND BARREL!… Give this gay couple the second place package, a container of Astro-Glide, two gerbils and some women's panties."
Howard and Jones found most of the 47 comments following that post, which featured Jones and Howard's photo from the Crate and Barrel site manipulated to include dildos, as equally offensive.
"I hope they all catch HIV, AIDS and a host of other gay male diseases and drop dead," an anonymous reader wrote.
"[The general population has] been brainwashed by the media and flaming left wingers to accept all of society's bad habits because we don't want to offend anybody," Michael O'Leary, one of the few identified by name, added.
Rick Garcia, director of public policy for Equality Illinois, says he's not surprised by the blog.
"Most of the police officers that I've had to deal with here in Chicago are stellar," he says, "but there are always a few of those individuals who you really wonder why they have a badge and a gun."
Jones says he's not sure how much of a boost that online vitriol — which has since been removed — contributed to their slip to the No. 2 slot. In fact, the Coles have an impressive support page on Facebook with nearly 6,000 followers who have been asked to vote in the contest. As of Tuesday, March 2, they have over 10,400 votes compared to Howard and Jones, who were at approximately 5,900.
"Did they get a boost [from that blog]? Probably. In my heart, I say I hope not, because this contest is supposed to be about love, not hatred. It would just pain me to know that hatred helped them win."
There has been no response to an e-mail query to the blog site to learn why the posts were removed.
Vicki Lang, manager of public relations and community affairs at Crate and Barrel, says the organization is monitoring what the contest triggers on the blogosphere.
"We're watching the blogs, too," Lang says. "It's part of what we do and an important part of this contest. And if we're talking about the same blog their traffic in the U.S. is very small.
"Still, even before we could react to those postings, it looks like it's been taken off."
Lang says by contrast Crate and Barrel has received an "overwhelming" response of positive feedback for including several same-gender couples.
As far as the contest rules regarding ranking and prizes, Lang points out that the winner of the online voting, which runs through the end of March, does not automatically win the first-place $100,000 wedding.
The couple who ranks first in online voting is guaranteed only $500. The top 50 couples in the contest all move on to the second round of the contest, which is the judging portion in April. At that stage, a panel selects the first, second and third-place winners of the "Ultimate Wedding."
"I think that's important for people to understand," Lang says. "That said, we certainly do not condone those kind of comments."
Digging deeper, local gay activist Phil Attey says the comments made against Jones and Howard on the unofficial anonymous police blog shed light on a greater problem illustrated by the Crate and Barrel contest.
"We need to entertain the possibility and probability that if this is taking place under anonymous postings, that this is really how they talk to each other in the police departments or when they're having beers after work," Attey says, adding that it's not Crate and Barrel's problem to fix.
"I think the fact that Crate and Barrel has opened up this contest to all families and all couples is commendable, and I really don't think it's their place to be political.
"I think it's our place to be political and our community needs to be involved in this by reaching out to our police departments across the country. We need to create a dialogue, using this as an example, to create dialogues between the police departments and the LGBT communities."
That applies equally to D.C., Attey says.
"We have a huge problem here. The mayor and the chief of police are actively dissolving the Gay and Lesbian Liaison Unit (GLLU) at a time when LGBT-related assaults comprise over 80 percent of the hate crimes in the District."
Police Chief Cathy Lanier has led a controversial effort to re-tool the Metropolitan Police Department's award-winning GLLU from a centralized, dedicated unit in Dupont Circle, to increased GLLU training for a larger number of officers working in all parts of the city, but not dedicated to GLLU work alone.
"There's a serious need for a dialogue here," Attey continues. "If this is how our police officers really think and talk to each other about us, instead of dissolving programs like GLLU we should be ramping them up."
Sgt. Brett Parson, a popular member of the gay community and former head of the GLLU, as well as the Special Liaison Unit that oversees the GLLU, says he doesn't give much credibility to a website with such a derogatory title.
"I could see why people who already are cynical or have fears of the police, how this might fuel that, but generally speaking, I don't think that's the case," Parson says.
"You just need to look at the domain name itself to know that you're dealing with somebody who probably doesn't have all his oars in the water anyway.
"Whether or not they're really a police officer I find pretty dubious as well. Let's say, even if the person is, they certainly don't represent all police officers and I think people understand that. I think this person is exercising their right to free speech and I think our right is to not go to his website, and to condemn his behavior."