"I'll never be able to watch a Hitchcock movie again without laughing," said one viewer of Alfred Hitchcock's The 39 Steps in a posting to the play's YouTube page.
Laughing at Hitchcock? Blasphemy!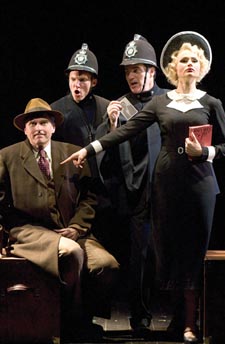 The 39 Steps
(Photo by Craig Schwartz)
Not if you ask Harriet Newman Leve, one of the show's producers.
"It's very much a loving spoof," says Leve. "We bill it as a comedy thriller, because we don't want to mislead people."
The Tony Award-winning play, running all next week at the Warner Theatre, is based on Hitchcock's 1935 film of the same name. But Leve insists it stands on its own.
"It's a very fast 100 minutes of telling the 39 Steps story as it was told in the film," she says. "But in this case we're using four actors to play about 150 roles." The four re-enact all the film's characters, locations and scenes with just a few props and a lot of theatrical ingenuity.
Leve, who has a doctorate in counseling psychology and once owned a travel agency, first got involved in New York theater by signing on 15 years ago as a producer to the still-running Stomp. Currently, she's co-producing the musical revivals of A Little Night Music and La Cage Aux Folles, and is working with Lily Tomlin and others to adapt for HBO the Off-Broadway play The Beebo Brinker Chronicles, based on Ann Bannon's iconic lesbian pulp-fiction novels.
The producer, honored last year by Power Up as one of the "10 Amazing Gay Women in Show Business," has been out for several years now, after an earlier marriage to a man. "It's been quite comfortable for me," she says of being out in theater. "I think the arts are very welcoming and accepting no matter what your sexual preference."
As for The 39 Steps, Leve concedes the play has left an indelible impression. "It's very exciting to watch the film now, because I see so much of our show in it."
Alfred Hitchcock's The 39 Steps runs March 23 to March 28, at the Warner Theatre, 513 13th St. NW. Tickets are $30 to $70. Call 202-783-4000 or visit warnertheatre.com.