On Friday afternoon, March 19, a day before he was to be the keynote speaker at the 18th Annual National Dinner of the Servicemembers Legal Defense Network, Rep. Patrick Murphy (D-Penn.) took time out of his health care-packed congressional schedule to talk with Metro Weekly.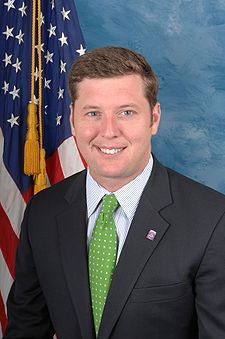 Representative Patrick Murphy (D-PA)
An Iraq war veteran who served as a captain in the Army's 82nd Airborne Division, Murphy took over the leadership of the bill to repeal the military's "Don't Ask, Don't Tell" policy in 2009 when former Rep. Ellen Tauscher (D-Calif.) left Congress for a post in the State Department of the Obama administration.
Calling Lt. Dan Choi — arrested Thursday, March 18, for protesting the policy at the White House — an "American hero" and saying that, "Yes," there would be a vote on repealing the policy this year, Murphy spoke about both the need for repeal and the efforts to make that repeal happen.
The congressman's efforts at raising the prominence of the bill – the Military Readiness Enhancement Act, H.R. 1283 – have been successful on several fronts. As SLDN spokesperson Kevin Nix noted, Murphy has "brought on a number of co-sponsors since he took on … quarterbacking the bill."
First elected to Congress in 2006, Murphy is a relatively junior member to be leading efforts on the bill, but his prominence as a straight Iraq war veteran have proven beneficial to the cause. On March 19, Murphy said the 191 co-sponsors of the bill are up from around 150 in July 2009.
As former Navy Lt. j.g. Jenny Kopfstein, who testified before the Senate Armed Services Committee on March 18, said, "It was really great to hear Rep. Murphy; I was really moved by his remarks, actually. I think it's wonderful to have a veteran in Congress fighting for us."
Before the SLDN event, Murphy said, "It's an honor to stand shoulder to shoulder with SLDN and with those heroes who are gay and lesbian and willing to take a bullet for their country."
They, it appeared, feel the same way about him. Former Air Force Maj. Michael Almy, who also testified before the Senate on March 18, was enthusiastic about Murphy's support on Saturday evening – going so far as to call him "the hot congressman from Pennsylvania" from the stage.
"We couldn't ask for a better champion for our cause than Patrick Murphy. He has just taken the ball and run so far with it," Almy said. "We, as a community, owe him so much for his support.
"It's just so refreshing to see such strong support like that, contrasted with some of the opposition the we saw in the hearing on Thursday – Sen. [John] McCain (R-Ariz.), Sen. [Saxby] Chambliss (R-Ga.), some of the others."
In addition to the Senate testimony on March 18, several other happenings made it a busy week for DADT repeal efforts – beginning March 15 when Rep. Barney Frank (D-Mass.) raised questions about the White House's dedication to a repeal this year and going through to March 19 with the arraignment of Choi and former Army infantryman James Pietrangelo II for their White House demonstration.
Citing the "tremendous leadership" shown by Secretary of Defense Robert Gates and Adm. Mike Mullen, chairman of the Joint Chiefs of Staff, Murphy said he believed the movement toward repeal of "Don't Ask, Don't Tell" was positive and steady.
Margarethe Cammermeyer, a former colonel in the Washington National Guard, successfully challenged a discharge begun when she revealed that she was a lesbian prior to the implementation of the "Don't Ask, Don't Tell" policy. She was at the dinner on Saturday, and she too felt positive.
"It feels like we've had 17 years of marking time, and now to have it all build together, we're cautiously optimistic." She added, however, "I was very optimistic in 1993. Since that time, I've learned that caution is wise – as long as you keep on working in the right direction."
Kopfstein agreed, saying, I'm actually very hopeful. Every minute that goes by, every day, every week, every month and year, more and more people realize that this law is wrong."
Murphy told Metro Weekly that he thought the optimism was well placed. Asked whether he thought the House would vote on repeal this year, the congressman's answer was a single word: "Yes." He was more circumspect as to how that would transpire, saying only, "There's different legislative avenues. All the legislative options are on the table."
As for Frank's comments that the White House is being "ambiguous" about whether it wants to see a repeal in 2010, Murphy did not directly respond. "It's a two-track approach," he said. "The Pentagon is working on an implementation plan, and Congress is working on repeal."
Regarding President Barack Obama's mention of the repeal effort in this year's State of the Union Address, Murphy was blunt. "I think the president made it clear he would like a bill on his desk," he said. "Congress can't punt it to the president, Congress can't punt it to the Pentagon, Congress can't punt it to the courts."
Noting that he's met with "all the major players" in the White House about the policy, Murphy said, "They've made it very clear to the Pentagon to work" on a repeal implementation plan. Asked if those meetings had occurred since Obama's remarks in January, Murphy said, "Yes, since the State of Union. There's not a day that goes by that we don't work with the White House and Pentagon…to repeal this hateful and wrong policy."
Murphy hinted at the possibility of a clear sign from the White House in support of a repeal this year. "[Obama's] first defense budget is coming up," he said. Advocates of a repeal have encouraged the president to include repeal language in his Defense Department budget request this spring.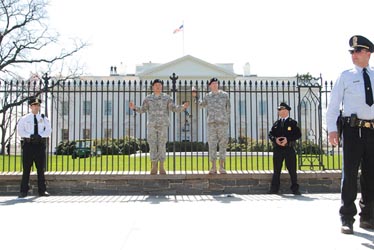 (Photo by Todd Franson)
On Thursday, Choi and Pietrangelo chained themselves to the fence in front of the White House on Pennsylvania Avenue and stayed there until they were arrested. When Murphy spoke with Metro Weekly, their arraignment – at which they pleaded not guilty and were released pending trial on April 26 – had not yet transpired.
Regardless of the outcome, though, Murphy was quick to come to the defense of Choi's efforts.
"He served his country. He's an American hero. He has every right to speak out and to make our country a better place.
"I will tell you," he continued, "people have been doing peaceful demonstrations throughout American history. It's what the whole civil-rights movement is about."
Cammermeyer, both a veteran and a former congressional candidate, pointed to the value in efforts like those by Choi that were cheered in front of the White House and those by Murphy cheered on Saturday at the National Building Museum.
"We all have different ways of serving. And some of us are doing it in a more outspoken way than others.
"You have people who are a little more radicalized and do things in their way. It brings attention to the situation," she said. "But, it's working with the mainstream and through the system that changes take place."