"There are no spectators here today," Rev. David K. North, pastor of Holy Redeemer Metropolitan Community Church in College Park, said. "All of us have responsibilities to ensure the success of this joint endeavor."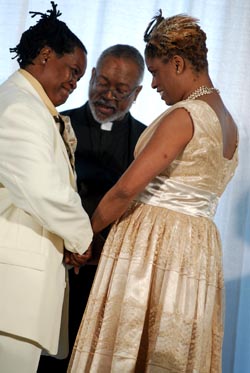 Angelisa Young and Sinjoyla Townsend are married by Rev. David K. North
(Photo by Ward Morrison/Metro Weekly)
With those words – common to weddings everywhere but especially poignant on Tuesday morning, March 9 – North began the first of three same-sex wedding ceremonies held today before more than 100 guests and almost half as many members of the media at the Equality Forum, a community space on the ground floor of the Human Rights Campaign's headquarters in Washington.
The Tuesday ceremonies, organized by the Campaign for All D.C. Families, were among the first same-sex weddings to be conducted in the District that also came with legal recognition from the District government. With Councilmembers Jim Graham (D-Ward 1) and David Catania (I-At Large) present, along with a toast from Mayor Adrian Fenty (D), the ceremonies attracted much attention.
Two other ceremonies conducted in front of the District's Carl Moultrie Courthouse earlier in the morning, however, appear to have been the first such ceremonies performed following the March 3 enactment of the Religious Freedom and Civil Marriage Equality Amendment Act of 2009. Same-sex couples began applying for marriage licenses, which require a waiting period of three full business days before a couple may be legally wed, on March 3.
A dozen or so friends, family and supporters of James Betz, 23, and Robb Hawthorne, 24, joined the couple as they looked into each other's eyes during a marriage ceremony outside the D.C. Courthouse on Tuesday morning.
"These guys were the first to pick up their license here today and to see them walk out with a smile on their face, and a love in their eyes, and to be able to affirm that through the law of the District of Columbia – my heart is filled," said Bonnie J. Berger, an ordained interfaith minister from Takoma Park, Md., who performed the ceremony.
"This is about the love that the two of them have, and the excitement that's in the air," she said. "And, as a lesbian myself, to be able to be with my people and to celebrate that and to no longer have to put up with being second class."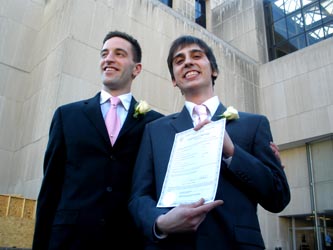 James Betz (left) and Robb Hawthorne married at the D.C. Courthouse
(Photo by Yusef Najafi/Metro Weekly)
Berger also performed a ceremony for Delia and Rebecca Taylor shortly after that couple left the courthouse with their marriage license.
At the Equality Forum, the ceremony for Angelisa "Angel" Young, 47, and Sinjoyla "Tina" Townsend, 41 – the first same-sex couple to apply for the newly legal marriage licenses in the District – began a little past 10 a.m. Tuesday morning.
North told the attendees, "This is a serious and sacred interactive gathering. Just as Tina and Angel have responsibilities to one another . . . [a]ll of us have responsibilities to ensure the success of this joint endeavor."
As Young concluded her vows by simply stating, "I love you," Townsend told the attendees that she had written her vows down. She turned to Young and said, "Angel, when you call, I will respond. … You are my rock, my life, my love."
Young and Townsend have two children and have been together for 12 years.
The second ceremony at the Equality Forum, between Reginald Stanley and Rocky Galloway, was performed by Rev. Sylvia Sumter, the pastor of Unity of Washington, D.C. Sumter called the day, "A uniting of two souls . . . who are already one in spirit."
Stanley, 50, who has two children with Galloway, 50, spoke of the importance of the day, saying, "Tod ay, especially today, the arc of the moral universe is long and bends toward justice. B ut today, and every day, the arc of my love is longer and bends toward you."
Galloway, responded in his vows, saying, "Simply put, you make me feel free, free to be everything that God made me to be, free to live this life in all its fullness, free to love you the way that you deserve to be loved, openly and deeply."
The final ceremony conducted at the Equality Forum on Tuesday included the most pointed comments about the day's importance.
Rev. Dwayne Johnson, a pastor with the Metropolitan Community Church of Washington, D.C., told the attendees, "Love is a mystery, relationship is a gift, and marriage is also a gift that up until this day in the District of Columbia has been denied. But today, in this place, we open this gift."
"We believe that marriage is about freedom, freedom to choose the one you love, regardless of external expectations and limitations," Johnson said. Then, looking toward the third couple, Rev. Elder Darlene Garner and Rev. Lorilyn Candy Holmes, he added, "So, today, your love for each other knows no limits. It's free."
Donna Payne of the Human Rights Campaign and a friend of the third couple spoke as a witness to their union, telling the attendees, "Candy and Darlene run deep in commitment to the community. Being ministers, and being out in the Metropolitan Community Church, is no joke.
"Being there, and standing steadfast, while souls come left and right that are broken, and mending that and bringing them into their family, that is a sacred, beautiful thing."
Holmes, 53, when given the opportunity to share her vows, said, "Loving you, and being loved by you, is an indescribable joy.
"To realize this . . . to marry the joy of my life is the best gift from God to me."
Garner, 61, spoke of the moment, and the path.
"At last, this day has come. When our journey began 14 or 15 years ago, I knew even then that we were destined to be here, together, today," she said. "The path to today has taken its twists and turns. … Even so, I have always known that you are the love of my life."
Yusef Najafi contributed to this report.