Secretary of Defense Robert Gates and Chairman of the Joint Chiefs of Staff Adm. Mike Mullen announced this morning at a Pentagon news briefing changes to the military's separation policies under "Don't Ask, Don't Tell" for both enlisted and regular and reserve commissioned officers.
The most significant change to the policy will raise the level of the officer who is authorized to initiate an inquiry or separation proceeding regarding the DADT policy to a general or flag officer in the servicemember's chain of command.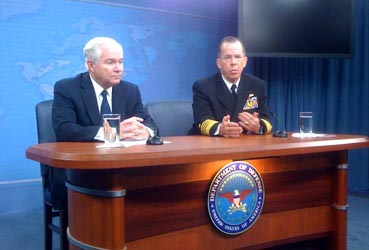 Secretary of Defense Robert Gates and Joint Chiefs Chairman Adm. Mike Mullen announce DADT changes
(Photo by Chris Geidner)
Speaking to efforts to repeal DADT in Congress, Gates said, "I do not recommend a change in the law before we have completed the study. … Doing it hastily is very risky."
Mullen said that he echoed the secretary's statement.
President Barack Obama pledged to repeal DADT this year in his State of the Union address in January, but Gates said his "impression is that the president is very comfortable" with the course set forth by the Pentagon.
At the same time, Gates reiterated that the Pentagon Working Group is not determining if the policy should be repealed.
"The study is about how you would implement it. If the law changes, how would we implement it?" Gates said. "This study is not about should we do it; this study is about how would do it."
Other changes to the policy include changing what constitutes "credible information" to initiate separation proceedings under DADT. Specifically, the revised policy gives as an example of credible information that which comes from a "reliable person" and is provided to the military under oath. Previously, that information did not need to be made under oath.
Certain types of confidential information can no longer be used for purposes of DADT discharge proceedings, including those covered by lawyer-client privilege, communications to clergy, or psychotherapist-patient privilege, as well as information provided by a servicemember to a medical professional or information provided in the course of seeking professional assistance for domestic or physical abuse.
The changes are effective immediately and apply to all open and future cases. The service branches have 30 days to bring their policies into compliance with new requirements.
Gates said that the changes announced today "were developed with the full participation of the Department's senior civilian and military leadership, and the changes are unanimously supported by Chairman Mullen, Vice Chairman Cartwright the entire Joint Chiefs of Staff."
Gates noted that, in addition to the opinion of Defense Department General Counsel Jeh Johnson, the changes were reviewed by the Department of Justice's Office of Legal Counsel, which "concluded that these changes are consistent with the existing 'Don't Ask, Don't Tell' law."
Gates said the changes will allow the implementation of DADT in a "fairer and more appropriate manner."
Nathaniel Frank, a senior research fellow at the Palm Center who has written extensively on the policy, said of today's changes, "By making it more difficult to fire gay servicemembers, the Pentagon has signaled that servicemembers who are widely known to be gay should continue to serve.
"The full impact of the changes will depend on how they are actually enforced," Frank continued in the statement. "Perception is reality, and if the higher bars to discharge are not actually used to reduce firings and create a sense of privacy for gay troops, these changes will be a charade."
Johnson, who spearheaded the review that led to today's changes, also spoke to reporters about the changes. He was asked about discharge proceedings that began based on information that would no longer be considered credible and that resulted in a servicemember later giving a statement admitting that they are gay or lesbian. Johnson was asked if the investigation would start over and whether the admission would still be considered in the servicemember's discharge proceedings.
"That's a good question and we'll have to work that through," Johnson said. Nothing in the revised separation procedures, however, appear to require that such admissions be excluded as discharge proceedings go forward.
Responding to a question from a Metro Weekly reporter about whether the recommendations given by Johnson were being fully implemented today, Gates said that "one of the issues" he faced in revising separation regulations was the level of the general who is required to initiate such proceedings. Pentagon discussion, Gates said, centered around whether a two-star general or one-star general would be allowed to initiate the proceedings
"In my discussions . . . the practical aspect," said Gates, came down to availability of two-star generals, particularly in the Marine Corps. "Having a one-star do it made it more practical.
"I just wanted to make sure that in terms of the experience and leadership level and so on, that we elevated this to a level of people who have a lot of experience and a lot of maturity."
Said Frank of that decision, "As Secretary Gates said today, the Pentagon could have raised the bar even higher, but chose not to. So while the administration is to be commended for taking this step, its work is far from over."