The 2009 Next Generation Awards: Where Are They Now?
It's been nearly a year and a half since Eboné Bell quit her day job to focus on her event-planning business, B.O.I. Marketing and Promotions. Bell has no regrets about her decision.
"I'm not going to act like everything is rosy and dandy," she says. "With any business there's a lot of trials and tribulations, but I believe that you have to go through this to succeed. You have to start from the bottom up."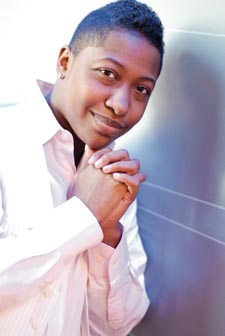 Eboné Bell
Thus far, 2010 has been a success for the 28-year-old lesbian, popular in some circles as the drag king "E-Cleff."
"The Capital Queer Prom, this year, was a huge success — it was our best one by far," Bell says of the event organized by B.O.I. "We were able to bring 300 people to the event. It was probably our most diverse turnout."
Winning last year's Next Generation Award is what led her to choose the Wanda Alston House as the beneficiary of the Capital Queer Prom.
"One of the many positive things that came out of the Next Generation Awards was the relationship that I was able to build with my co-award winner, Brian Watson," she says. "If I had never won that award, I probably would have never contacted him about the Wanda Alston House being the beneficiary of the Capital Queer Prom this year."
While Bell won't offer details about a conference she is developing for LGBT Washingtonians sometime in the near future, she doesn't hold back when talking about changes to next year's prom.
"I'm hoping to make it an all-weekend event, a national event."