EARLIER THIS MONTH, Gallaudet University made headlines when news spread that the D.C. college for the deaf was planning a production of Terrence McNally's Corpus Cristi. But the campus has seen its share of controversy before, from student protests over the hiring of a hearing president to the media frenzy surrounding the murder of two students by another.
Yet, despite any controversy in the past or present, Gallaudet University has earned a gay-friendly reputation for having a gay-straight fraternity as well as the Rainbow Society, a group for LGBTQI students.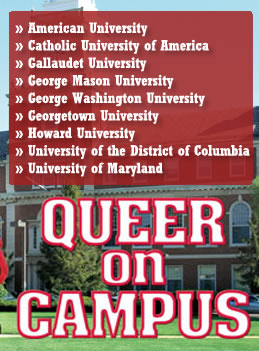 Ask Deon Johnson, who is gay, what it's like to be a member of Gallaudet University's Rainbow Society, and he'll answer bluntly: "It's as if we are in Sex and the City,"' the 21-year-old junior studying psychology, tells Metro Weekly via AOL's Instant Messenger.
"[We] discuss our favorite topics: men, sex, love – it's an easy way to recruit people to become members."
The Little Rock, Ark., native decided to join Rainbow Society, and eventually go on to serve as its treasurer, because he "loves to socialize" and he was looking for "something different." And that's what he found with Rainbow Society.
Group activities range in size from small gatherings on Thursdays to talk about anything and everything LGBT, to bigger endeavors, such as Colorfest, a new annual festival organized by the Rochester Institute of Technology.
Organizers describe the latter as "an annual event designed to provide deaf LGBT youth with opportunities to flourish, network and learn beneficial skills within a college setting." In 2009, Gallaudet hosted Colorfest on its campus.
Rainbow Society states on its Facebook page, the "campus is known to be inclusive to LGBT students, featuring a fraternity that is inclusive of gay people. With Rainbow Society, Gallaudet works to become even more inclusive."
That's really what it's all about, Johnson adds. "It changes the campus environment. People are starting to be [more] open about homosexuality, bisexuality and transexuality."
For more information about Rainbow Society, visit facebook.com/group.php?gid=27624042903.