THERE'S RARELY AN upside to a hate crime, though Georgetown University may be that rare exception. In the fall of 2007, a season in which this over two-century-old campus really looks the part of grand academia, a homophobic hate crime happened a block from campus. Both victim and perpetrator were Georgetown students. That prompted the president of the university to lead the private institution affiliated with the Jesuits, an all-male religious order of the Catholic Church, toward a new reality affirming LGBT students. Tangibly, it led to the university's fully staffed LGBTQ Resource Center in August 2008.
"This is a first for a Jesuit school," says Sivagami Subbaraman, director of the resource center and one its two paid staff members. "The very fact that the center exists is the university saying, 'We're okay with this.' It's an official center with a full-time staff."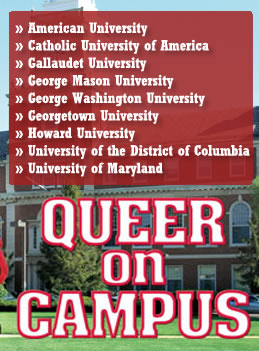 Among her duties directing the center, Subbaraman fields calls from prospective students.
"Some of the questions are whether it's okay to be out at a Catholic, Jesuit school," she says. "The fact that this does exist at a Catholic school — and a very active student group — makes a big difference in their decision making."
That "very active student group" is GU Pride. Maxwell Wallace, an 18-year-old freshman from San Francisco majoring in international politics, is the group's publicity chair. Another hate crime, this time off-campus but also in Georgetown, in October 2009, pushed Wallace to become more involved in the group.
He says today that the Georgetown University campus shouldn't conjure memories of crime news, but of a place where LGBT students are fully affirmed.
"In my classes, when gay issues have come up, I've been surprised how affirming people were — and how uncomfortable [non-affirming] people were," he says. "I've been surprised how accepting this campus can be.
"Obviously, sexuality is very complicated and personal, but I do think the administration has done a good job. The administration is making legitimate efforts, like diversity training at orientation."
Wallace adds that during the next academic year, he'll be serving as a resident assistant (RA), living in a dorm where he'll offer particular guidance, support and supervision to students. And he has no qualms about doing it as an openly gay man.
Subbaraman says Wallace is not alone. "When I first came here [in 2008], there were only a couple [openly gay] RAs," she remembers. "Now there are more than a dozen. That's a simple example that has made a significant difference. I feel bit by bit things have changed. Most students feel comfortable being out on campus, that they don't have to hide."
Wallace says he wouldn't hesitate in endorsing the university to prospective LGBT students: "Being gay shouldn't in any way deter them. I would encourage LGBT students to apply."
For more information about the LGBTQ Resource Center, call 202-687-3546 or visit lgbtq.georgetown.edu. For GU Pride, visit studentorgs.georgetown.edu/pride.