"Every time I go back to Greece, I miss home here," says Yiannis Elia, who moved to D.C. from his native Athens some 12 years ago and hasn't looked back. "It's funny, I changed so much here in the U.S. in ways that I don't even realize."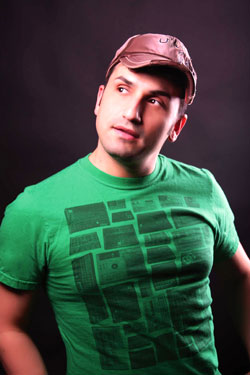 DJ Yiannis
(Photo by Jimmy R. Smith)
His immediate family remains in Greece, but over the past decade Yiannis has created his own family in the states, particularly within the dance-music industry. And the 34-year-old is showcasing them on his debut mixed compilation, DJ Yiannis Reloaded. It's due for release next month by the prominent dance label Music Plant.
"Because it's my first album, I wanted to work with people who are really close to me, my music family," he says, citing in particular Razor N' Guido, Chris Cox, Eddie Baez, Josh Harris and fellow local DJ/producer Jean-Philippe Aviance. The set is distinguished by Yiannis's revamps of several dance music classics, from Aviance's "Give Me Luv" to Razor N' Guido's "Do It Again." "It was such a challenge with those songs to do it better than the original, or to do it justice," says Yiannis. "[But] I wanted to take it to the next level."
Razor N' Guido will join Yiannis to spin for the compilation's first official release party at Town on Saturday, May 1. During the night, other artists will perform tracks from the compilation, which will be available for sale.
Yiannis was Velvet Nation's longest-running resident until the Northeast D.C. superclub closed in 2006, and he has spun several times at Town and Apex in recent years. But Yiannis has been spinning more regularly at straight venues, as well as at a swingers party — when not consumed with production work. "I go both ways, let's put it that way," Yiannis says, when asked to label his sexuality.
Last year, the bachelor bought a house in Centreville, Va. "It's a very nice house, but it's a little bit too far," he says. Trained as a chef, Yiannis says he loves to cook for his friends, but living in an outer suburb has made that more difficult. "Nobody really wants to travel now and come see me," he laughs.
DJ Yiannis spins Saturday, May 1, at Town Danceboutique, 2009 8th St. NW. Cover is $12 after 11 p.m. Call 202-234-TOWN or visit towndc.com.