The mid-Atlantic is in bloom. Winter's crisp, barren branches are bursting with green. The once snow-buried yards are sun-kissed and welcoming a rainbow of blooms. And the humble honeybees are again buzzing. Watching them dart to and fro in their noble work, how can one not meet spring without craving at least a taste of their golden goo?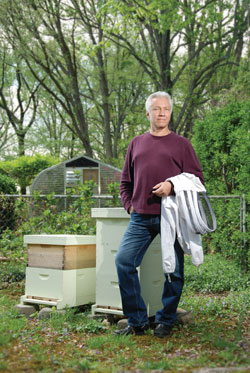 Peter L'Heureux
(Photo by Todd Franson)
Peter L'Heureux, chef and owner of the home-based Mondiale Catering in Upper Marlboro, Md., will have to be patient, though. His bees haven't arrived yet. The two hives he keeps in his yard died off during the harsh winter and their replacements aren't due for a few more days.
And L'Heureux isn't alone. With many suspects but no single convicted culprit, the gentle honeybees of North America have taken a serious hit. The buzz-phrase is "colony collapse disorder." The result is defined: fewer honeybees. The cause, or causes, debatable. This is where individuals like L'Heureux may be filling a gap as amateur beekeepers, or apiarists.
"Typically, you'll get 60 pounds of honey per hive," says L'Heureux, who learned all about this ancient craft from the Bowie-Upper Marlboro Beekeepers Association, better known by its cute acronym, BUMBA. "I took the full course. You wouldn't want to get into this hobby without going to those. And there are chapters of the Beekeepers Association all over Maryland. It will cost you probably $1,000 to get started, for the hives and the honey supers and protective clothing and so forth. I bought gloves — I haven't used them once. I've been stung a total of four times in three years. They really don't bother me."
And for his efforts, L'Heureux gets honey to use in his catering business's salad dressings, marinades and desserts. Or, as he puts it, "a little bit of everything."
While BUMBA's "short course" is just wrapping up, the nonprofit organization offers classes regularly.
But even if the thought of keeping your own bees doesn't excite you, their products should. Bees even make wax fun.
"You can make candles, you can make soaps, wax bars to take the squeak out of a door," L'Heureux says. "They smell wonderful."
That's just for starters. Are you suffering oily skin in the summer months? Try a facial mask of honey and lemon juice — a teaspoon of each is plenty. Medicinally, honey has also been used in human history beyond just a means of soothing a sore throat, as it has some antiseptic and antibacterial properties.
Back to basics, honey simply tastes sublime — to say nothing of its texture, color and aroma. Skip the classes and head to the Fairmont Washington, D.C., hotel, recipient of the 2009 Mayor's Environmental Excellence Award for "outstanding achievement by a hotel." One secret of the Fairmont's success — or 105,000 secrets, approximately — are the honeybees kept on the roof in three hives. Guests dining at the hotel can offer their own accolades.
If you'd like to try your hand at a honey-infused recipe at home, turn to Los Angeles-based celebrity bartender Pablo Moix. At the request of the National Honey Board, he concocted a few honey-based, adult libations. Notably, honey is better for adults — infants can't digest the stuff, and it can even be fatal to them. But if you're looking for a honey fix, Moix recommends the Mari Mercedes, named for his mother who is reportedly both sweet and spicy. A word of caution: One goes a very, very long way.
For more information about BUMBA, visit bumbabees.com. For information on their beekeeping class, call 301-868-2086 or e-mail beefriend@verizon.net.
Mari Mercedes, courtesy Pablo Moix
1/2 ounce clover-honey syrup (2 parts clover honey, 1 part water)
1/2 Serrano chili, split lengthwise, seeded
2 ounces 100 percent Agave tequila
3/4 ounces elderflower liqueur (e.g. Saint Germain)
3/4 ounces freshly squeezed lime juice
1/4 ounce freshly squeezed orange juice
Remaining Serrano chili (as garnish)
In a cocktail shaker, place 1/2 Serrano chili, spirits and mixers. Add ice and shake vigorously. Strain into a sugar-rimmed cocktail glass. Garnish with remaining chili.