IN OCTOBER 2008, BLAGOSAH celebrated not only the group's eight-year anniversary, but a resurgence after a few years of a sort of slumber. What was resurging, exactly, was the Bisexual Lesbian and Gay Organization of Students at Howard University.
A relatively new student at the time, Amari Ice, was celebrating the renewed energy as BLAGOSAH's president. But Ice, 21, a junior from Indiana majoring in speech and applied communication, is no longer a member. BLAGOSAH is gone. In its place is CASCADE: the Coalition of Activist Students Celebrating the Acceptance of Diversity and Equality. And Ice is still president.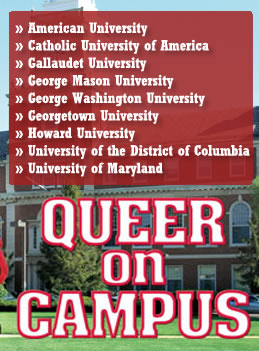 "We voted to change about a year ago," he explains. "It was official in August when the school year started.
"BLAGOSAH sounded solely LGBT-oriented. A lot of non-LGBT allies didn't feel comfortable. They didn't think it was for them. They didn't know how they fit in. And in BLAGOSAH there seemed to be hostility: 'I don't want straight people in my space.' That was misguided to me. I never saw a problem with having straight people in the meetings. It furthers the cause."
As evidence, Ice could point to the group's recent week of campus-wide events titled "Taste the Rainbow," as well as the 50 dues-paying member — about 10 percent of whom identify as straight — and CASCADE's well-attended weekly meetings.
But with growth comes growing pains, even if it's just a little confusion.
"At every single school, I looked for an LGBT resource center," Genesis Nunlee, an 18-year-old freshman from Delaware planning to major in international business, says of her higher-education vetting process. "I knew about BLAGOSAH. That was very important. I need at least some sort of community."
Arriving at Howard in the fall, however, she couldn't find any mention of BLAGOSAH: "I was thinking, 'Oh, crap, there's nothing here,' because I couldn't find BLAGOSAH."
Luckily, another student noticed Nunlee's pride bracelet — but told Nunlee, who identifies as queer, that she couldn't be gay because she hadn't seen her at any CASCADE meetings. Mystery solved. And now Nunlee is the group's vice president-elect.
Whether in her capacity as one of the group's officers or simply as a queer student, what Nunlee wants people to know about Howard, perhaps the country's foremost HBCU (historically black colleges and universities), is don't believe the hype.
"Don't play on the stereotype that the black community is anti-gay," she says. "I know a lot of black, gay youth finding it difficult to come out in their communities, but Howard is accepting. Every once in a while, someone will say something not so PC, but it's not so bad. Actually, it's pretty good."
Ice says he's never encountered any homophobia in his three years on campus, but guesses that what may exist probably comes from students new to Howard.
"After the first couple weeks, they see the error of their ways," he says with a laugh. "Our campus is very accepting, for the most part. It's really cool to go to Howard, actually. It's a great place."
For more about CASCADE, visit them at facebook.com/cascade.hu, or follow cascadehu on Twitter.

This story initially defined the BLAGOSAH acronym incorrectly as "Black Lesbian and Gay Organization of Students at Howard University," rather than the "Bisexual Lesbian and Gay Organization of Students at Howard University." Metro Weekly regrets the error.