The 2009 Next Generation Awards: Where Are They Now?
It's April 20. Iceland's Eyjafjallajökull volcano is spewing airliner-threatening ash into European airspace. Linh Hoang is not rattled.
"It's impacted me tremendously," Hoang says from Vienna, Austria, though not with any alarm. "I was supposed to go to Paris on Friday, but there were no trains, no flights, no options."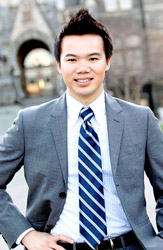 Linh Hoang
It's all in day's work for Hoang, who sounds as though he's relishing his new job. When he joined Metro Weekly's freshman crop of Next Generation awardees in 2009, he was a consultant for Accenture, which had allowed him enough time to settle down locally, buy a house in Northern Virginia, and even plant a little garden. But in October, he moved over to Berlitz, a global leader in language and culture instruction. And he couldn't be happier.
"It's an opportunity to really leverage some of my key strengths," says Hoang, 27, working on programs to help executives acclimate themselves to new countries. "Berlitz offers that opportunity to me, to really work globally…. It's been very good in terms of professional and personal growth. To be able to excel and thrive in the work that I do and really see the value of how that makes a difference in companies, I feel tremendously blessed."
He might wish for a little more time in his garden, but in the meantime Hoang is finding joy in cultivating relationships in all corners of the globe. Next up? Possibly a five-country trip in Africa. And then London. And Shanghai. And Bangalore.
"I love meeting people. I get to meet people all over the world. That seems to be my priority at this time."