Truth be told, most comic operas are funnier in theory than in reality. The buffo, over-rouged in a teetering wig, capers about the stage and, in a collective gesture of goodwill (and the knowledge that we aren't going anywhere fast), we smile and murmur our amusement. Expectations are, after all, low: We are here for the music and the singing, not the composer's antique sense of humor. And then along comes the WNO's production of Mozart's The Marriage of Figaro and it's all blown out of the water.
There are no gimmicky bells or whistles here, no libretto jazzed up with contemporary references — there is simply director Harry Silverstein's obvious commitment to acting that is as accomplished as the singing. And, with an ensemble as talented as this one, it is like seeing Figaro for the first time — fresh, funny and sparkling with wit. Add Mozart's score — beautiful, like a complex mathematical equation we all intuitively get — and the experience is sheer magic.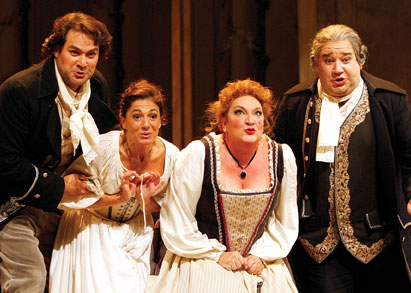 "Marriage of Figaro" at Kennedy Center
(Photo by Karin Cooper for WNO)
Carrying the production, without any doubt, is the simply amazing Teddy Tahu Rhodes as the philandering Count Almaviva (the lead roles are shared during this run; Trevor Scheunemann sings the role on May 1 and 5). Resonantly rich in sound and yet supple, Rhodes's baritone veritably strokes the ear. And yet not only can the man sing, he can seriously act. Wildly charismatic and possessed of a superb comic sensibility, Rhodes gives the gift of life to a character that is so often played as a singing cardboard cut-out. Sure, the Count is as unrepentantly creepy as always, but never has he been so dimensional and entertaining.
The other standout here is the quietly compelling Michele Losier in the trouser role of Cherubino. A marvelous physical actor, Losier portrays her love-addled adolescent male with great personality but also with skilled restraint. Cherubino is charmingly boyish and yet Losier never allows the character to topple over into parody. Though there are a few uneven moments, as a singer Losier has an exceptionally interesting and expressive soprano. There is an earthiness to her voice, a power, and yet also a winsome, lyrical beauty.
In well-cast counterpoint to the fire-brand Count, Virginia Tola's Countess Almaviva is cool, looking almost slavically stoic, even as her emotions roil just beneath the surface. It is easy to see how the Count – always in need of a chase – finds too little in this broodingly serious Countess. Tola's soprano is clear, bright and expressive, pleasingly soulful. She sings her Countess with a credible and affecting vulnerability even as she exudes stateliness.
In interesting contrast to Tola is Veronica Cangemi, singing the role of Susanna, Figaro's fiancé and the Count's latest pursuit. By comparison to Tola, Cangemi's soprano is a soft, sweet emanation, one that occasionally does not make it over the orchestra. Yet in the quieter moments, Cangemi crafts a delicate wistfulness and poignancy. She keeps her Susanna well on pace with the shenanigans, giving her young woman an earthy sense of fun, even if we don't quite get the Count's hunger for her.
As Figaro, bass Ildar Abdrazakov is accessible, appealing and spirited and he makes for a good match with Cangemi's personable Susanna. He sings with a pleasingly masculine energy though he isn't quite as fluid as he might be in Figaro's vocal runs. Still, his voice is a most pleasing balance to that of Rhodes, a rocky outcrop to Rhodes' planes of granite.
THE MARRIAGE OF FIGARO





To 5/7
Kennedy Center
Opera House
202-295-2400
dc-opera.org
Though his role is smaller, the production is enhanced by Valeriano Lanchas singing his nicely comic Dr. Bartolo with distinction and subtle flair. Tenor Jose Ortega as Don Curzio wonderfully supports several of the ensemble pieces with a clean, golden tone. Finally, although she harkens more to the traditional, Victoria Livengood as the scheming matron-in-waiting Marcellina is as expressive in voice as she is in character.
Accessible, giddily fun, this jet-fueled interpretation of Mozart's classic has only one drawback: It may ruin you for anyone else's.
On May 6, new members of the WNO's Generation O young professional's club are invited to The Marriage of Figaro as performed by the Domingo-Cafritz Young Artists at reduced ticket prices. Call 202-295-2400 for details.