The Capital Pride Alliance announced this week that Bill Miles, co-founder of the organization and current board secretary, died on Saturday morning, April 10, at George Washington University Hospital. He was 52.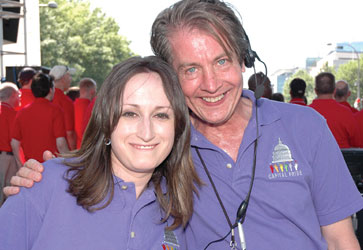 Bill Miles (r) with Jennifer Hall at the 2009 Capital Pride Festival.
(Photo by Randy Shulman)
According to CPA board member Mary Paradise, Miles was battling melanoma, a highly aggressive skin cancer.
"We met last year when I got involved with Capital Pride and it was as if we had known each other for our whole lives," Paradise says. "There was this gentleness and kindness about him, and his ability to just laugh and have fun. We were fast friends."
The Connecticut native, who was gay and single, resided in D.C.'s Shaw neighborhood. He worked as director of programs at the National Education Association Foundation.
"He was absolutely committed to not only his community but to making sure that public education could be the best it could be," Paradise says.
Michael Lutz, president of CPA's board of directors, says the organization plans to commemorate Miles's contribution to Capital Pride and the local LGBT community during this year's June event.
"He's been nominated for one of our Capital Pride Heroes awards," Lutz says, "but that's still in progress. We'll certainly be doing something to commemorate everything he did with the organization."
As secretary of CPA's board, Lutz says Miles, who came to Washington more than 20 years ago, offered the organization historical insight into Washington's gay community.
"Bill was fun and energetic, extremely passionate about not only Pride, but the [LGBT] community as a whole. He was very thoughtful on his insights."
After earning a bachelor's degree from Georgetown University, Miles went on to earn a master's degree from Harvard, and then a doctorate in education from Columbia University's Teachers College.
According to a prepared CPA statement, Miles designed and managed lighting for Ziegfeld's/Secrets and local parties. In addition to serving as Capital Pride's stage manager for several years, he volunteered for AIDS Walk.
"He was one of those gentle giants," Paradise says. "He knew what had to be done, he knew how to get it done, and he just went about doing it."
A memorial service for Bill Miles is scheduled for 11:30 a.m., Saturday, April 24, at the National City Christian Church, 5 Thomas Circle NW.