Hundreds filled the Mount Pleasant Baptist Church on Monday, April 19, to say farewell to a pioneer: Charlotte Smallwood.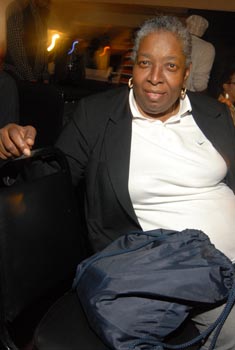 Charlotte Smallwood
(Photo by Ward Morrison)
"The community has lost an icon," said transgender activist Earline Budd, speaking to Metro Weekly shortly after the service. "Not just the LGBT community, but also the D.C. housing community. She was involved in many different organizations and she was phenomenal."
The 73-year-old lesbian activist died one week earlier, on April 12, from brain cancer.
"I really thought that Charlotte would have been someone that would have been with us forever," Budd said, "based on the way that she was always here and there, out and about and just everywhere."
In addition to being one of the founding members of Transgender Health Empowerment (THE), on whose board she served, Smallwood was co-editor of Community Life, a monthly newsletter begun five years ago with Courtney Williams. The publication provides information to D.C.'s African-American LGBT community.
"Charlotte was everywhere," Mark Meinke of the Rainbow History Project said. "She was a very active person."
Meinke said he attributes the large attendance at Smallwood's funeral to her "energy, her warmth and her sense of humor."
Smallwood was involved in a variety of organizations within D.C.'s local LGBT community, including the DC Coalition and Faith Temple, an LGBT-affirming, African-American Pentecostal congregation that meets at the New York Avenue Presbyterian Church.
Smallwood's advocacy also went beyond the city's gay community.
Smallwood took part in efforts to help make things better for the disabled, the elderly, youth and D.C.'s public school system.
Brian Watson, director of programs at THE, says Smallwood was one of the "gatekeepers" to the D.C.'s black LGBT community as co-editor of Community Life.
"She used to get around to everything," Watson says, "and we just became friends over time.
"She supported everybody – whether it be a gay, lesbian or transgender event. She went and supported everybody. And if there were only 10 people in the audience at an event, Charlotte was always one of those people."