The White House this afternoon called a report claiming that the White House was telling House members not to hold a vote on repealing the "Don't Ask, Don't Tell" policy this year "blantantly false" – a characterization that was echoed by the office of Rep. Barney Frank (D-Mass.).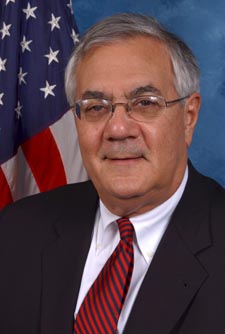 Rep. Barney Frank (D-Mass.)
In the post at AmericaBlog Gay, John Aravosis wrote, "Joe [Sudbay] and I were just informed that the White House congressional liaison office is telling US House members not to include the repeal of 'Don't Ask Don't Tell' in the Defense Authorization bill, and not to have a vote on DADT on the House floor, this year."
A White House official responded this afternoon via email, writing, "These rumors are blatantly false. The President has been clear in his desire to see Congress repeal Don't Ask, Don't Tell, and the Department of Defense is already moving forward with its own review."
In an explicit denial of the claims, the official wrote, "The Office of Legislative Affairs continues to engage lawmakers, and at no time has the White House asked any Member to take this issue off the table."
A spokesman for Frank, who has been critical of the lack of action from the White House on DADT repeal in recent weeks, said of the report, "We have heard no word of that whatsoever. From what I can tell you, that's just wrong."
In recent months, many advocates of repeal, from the Human Rights Campaign to Lt. Dan Choi, have been pushing for the DADT repeal language to be inserted as part of the Defense Authorization bill, in order to provide for easier passage – particularly in the Senate.
The Pentagon is currently engaged in a review of how a repeal of the policy would be implemented, as was laid out by Defense Secretary Robert Gates in a February hearing of the Senate Armed Services Committee. That working group's review is to report its findings to Gates no later than Dec. 1, and Gates said on March 25 that he "do[es] not recommend a change in the law before we have completed the study."
Gates also said that his "impression is that the president is very comfortable" with the course set forth by the Pentagon – despite President Barack Obama's pledge to repeal DADT this year in his State of the Union address in January.
Rep. Frank earlier told Metro Weekly that the White House was "ducking" on repeal and has been asking for the White House to publicly affirm its support for repeal this year. This past weekend, Frank told LGBT POV's Karen Ocamb, "At this point – the president's refusal to call for repeal this year is a problem."