"Who's got Crisco!?"
A month ago, after promoter Jeffrey Johnson had already gone through several gallon pump bottles of Wet brand lube, things were getting desperate. What's lube wrestling without lube? Lard just isn't as efficient.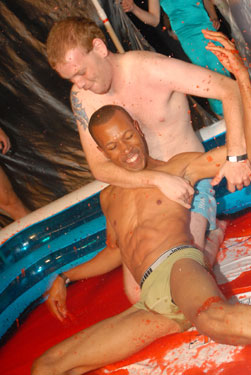 Jello Wrestling at EFN Lounge
(Photo by Ward Morrison )
"It's not as slippery and harder to clean up," says Johnson. But it will do in a pinch, as it did at Johnson's last Wet Lube Wrestling event, at Baltimore's Grand Central.
This Saturday, May 22, Johnson, who regularly produces the party with Gary Stevens at Club XS in York, Pa., brings the event to D.C. for the first time. It's to be yet another slip-and-slide wrestling event at EFN Lounge, home to Mr. and Ms. Capital Pride Leather's regular event, Jello Wrestling.
"It's the same concept," says Johnson, a native of Lancaster, Pa., who promotes club parties throughout the mid-Atlantic region. The event features boys in underwear who step — gingerly — into a pre-lubed kiddie pool for a 90-second match. "We'll also have a couple younger, good-looking guys pouring lube on contestants before the match," says Johnson. In fact, his own boyfriend has been known to serve as an event "lube boy."
Sometimes a patron in the crowd gives a cute competitor the underwear off his backside if he happened to come to the club commando. And "sometimes for a laugh" a competitor pulls down the back of his opponent's underwear during a match, though Johnson stresses the underwear must stay on. No nude weigh-ins here. And then there are times when a competitor gets a little, well, too excited. "Please adjust yourself," Johnson says is a standard refrain from the show's host.
"Whoever pins, wins" — or whoever the crowd favors, in the case of no pin. Winners receive various prizes, including Wet Lube gift sets.
Anyone can compete, though previous wrestling experience is helpful, says Johnson, who has never wrestled. "Pretty much anything is fair game — anything you can remember from high school wrestling, or even professional wrestling," says Johnson, adding, "except no throwing chairs."
Wet Lube Wrestling takes place Saturday, May 22, from 9 p.m. to 2 a.m. at EFN Lounge, 1318 9th St. NW. Cover is $5. Call 202-596-2336 or visit efnlounge.com.