In the past year, Michelle Raymond has taken up, among other things, softball, rowing, kickball and sailing.
And all because of Jim Carrey. Yes, that Jim Carrey.
"After I saw the movie Yes Man, it inspired me," Raymond says of the 2008 film. She doesn't say yes to every invitation or proposition, as Carrey's character is instructed to do, but "every time I see something that I want to do, there's no stopping me, I'll just go for it."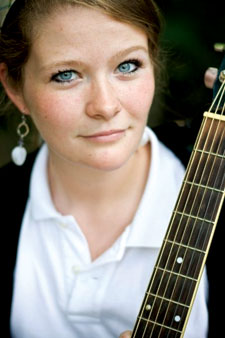 Michelle Raymond
Truth be told, the Richmond, Va., native seems to have always been a bit of a spontaneous go-getter. "I hate being idle," Raymond says. "I just like learning new things. I get bored really easily."
The 22-year-old, now a D.C. resident, started her four-piece Michelle Raymond Band nearly two years ago. It was originally meant as just a one-time collective for a show at Richmond's concert venue The National. (She had performed solo at smaller gigs for several years before that.) To form the band, she reconnected with Nancy Millhouse, with whom she had played in high school.
"I asked her if she knew anybody that could pick up the drums," says Raymond. "She had a friend at [Virginia Commonwealth University]. They just picked it up quickly and we liked the sound and continued with it." The group proceeded to win the 2008 Battle of the Bands competition at Gay Pride Virginia.
And now the four piece — Raymond on vocals and acoustic guitar, Millhouse on bass, Josh Gramling on lead guitar and Sam Sherman on drums — will make their Capital Pride Festival Mainstage debut on Sunday, June 13. Along with several originals, Raymond, who is bisexual, says festival-goers can expect to hear her cover of "Come to My Window" by Melissa Etheridge.
"Melissa Etheridge is basically my musician idol," Raymond says.
Raymond grew up as "an orchestra dork" in school in Richmond, playing various string instruments, from violin to viola to bass. But guitar came first. In fact, she had barely gotten the hang of walking and talking when she started strumming.
"When I was two years old, I asked my favorite uncle for a guitar for Christmas," says Raymond. "He got me a little toy guitar that I used to play all the time." That compelled her parents to enroll her in guitar classes. "Writing and playing just kind of grew on me. I couldn't stop doing it once I started." Raymond still has the toy guitar. It's a treasured keepsake, given its significance, and the fact that her uncle died soon afterwards.
"Every summer I go to Europe by myself and just travel around," she says. In 2008, after only three years, she graduated with a business degree from Virginia's Sweet Briar College. She was roaming around the continent that summer when she got a call from Sweetbriar's career services director. True to character, Raymond pounced on a job prospect in D.C.
"I hopped on a plane to Dulles, took a cab to Smith Barney, had my interview," she explains. "And then they called me and said, 'Can you start in two weeks?' She's been there ever since. Recently she picked up a side job as a weekend waitress at an Irish pub in the H Street Corridor, in part to pay for "her passion" of making music, which she aspires to make her fulltime career. She just spent some studio time with her band recording the single "Change," her first professional production.
"Recording is really expensive," she says.
And then there's the added cost of her "random activities."
Explains Raymond: "I like rowing a lot. I love sailing. All these things I've never done before, I picked them up and I really enjoy them, so I'm glad I did."
The Michelle Raymond Band performs Sunday, June 13, on the Capital Pride Festival Mainstage.