If, since hearing about Studio Theatre's decision to mount a new production of Legends! starring James Lecesne and John Epperson (aka Lypsinka) in the leading roles, you've been trying to remember the other drag version of the James Kirkwood play, you can stop now.
You're probably remembering the Joan Collins/Linda Evans version of the show that grimly scratched its way through town a few years ago.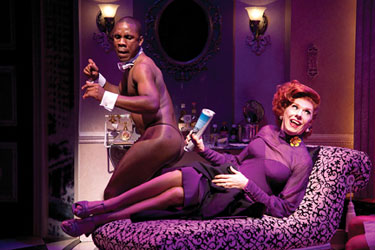 Booty call: Leo Christopher Sheridan and Epperson
(Photo by Scott Suchman)
Yet, if we are to believe dramaturg Sarah Wallace (and really, why wouldn't we?), having two men play the show's battling divas Leatrice Monsee and Sylvia Glenn is not an entirely new idea. Director Mike Nichols reportedly suggested Harvey Fierstein and drag artist Betty Bloolip for the roles, only to have Kirkwood go with Mary Martin and Carol Channing in the initial, venom-fueled 1986 run. Which is the other legend of Legends! — the backstage backbiting that seems to cling to the play like that curse on the Hope Diamond. The feuds between the show's onstage divas have a way of working their way offstage and into the gossip columns — Channing and Martin battled famously throughout their run, as did the previously mentioned tragically non-comic, nipped-and-tucked duo of Collins and Evans.
Whether Lecesne and Epperson are sharpening their precisely manicured claws on one another after the curtain drops hasn't yet hit the rumor mill , but the Epperson-edited version of Legends! might just be the hex-breaker.
It's far from perfect, to be sure — it's kind of like a trashy beach read. We're not really there for a night of important, groundbreaking theater. We're there to see Lypsinka and Lecesne onstage together. We want to see really great drag and really campy catfighting. And to do it, we'll put up with a show that is so bad even its own characters won't commit to liking it.
Sylvia Glenn (Lecesne) has hit on hard times. The once sought after, aging starlet has run through her money and the only acting she's done lately is when she's pretending to still be on top. It's out of desperation that she's agreed to meet with Martin Klemmer (Tom Story), producer of the hit interactive theater event about playing dice, "Craps!" Klemmer has a new project that he thinks Sylvia would be perfect for and he has just the co-star: Leatrice Monsee (Epperson/Lypsinka).
Sylvia and Leatrice despise one another. Sylvia played hookers while Leatrice played nuns. Sylvia has borrowed a friend's apartment and maid (Rosalind "Roz" White) to keep up appearances. Leatrice arrives in a full-length fur coat pressed to get to a dinner date at 21.
You get the set-up. It's the kind of comedy of errors piece that high school drama departments love. Lots of bitchy one-liners, slamming doors, poorly kept secrets and stretched-to-nothing plotlines. There's even a stripper.
It's a bad play.
And Epperson seems to know that. In fact, one wonders what the effect would have been if he had decided to take his over-the-top, show-deprecation just a few steps further, because what he's done is pretty spot-on.
When Sylvia and Leatrice make their first entrances they are bathed in spotlight and greeted by a romantic swell of music. Lypsinka's Leatrice gets in a lip-synched musical number and manages to flash a pair of killer gams for good measure. And the "ladies" of Legends! chew the scenery like a plate of appetizers. The mugging comes fast, furious and completely without apology. Perfectly lined lips freeze in open-mouthed horror. Eyes glare dramatically under outsized false eyelashes. Whenever the opportunity presents itself (and even a few times when it doesn't) they pose. They preen. They strut the stage like a catwalk.
They are, after all, the only reason why you're here.
Because, really, the play is pretty bad.
LEGENDS!



and one half
To July 4
Studio Theatre
1501 14th St. NW
$50-$71
202-332-3300
studiotheatre.org
Lypsinka and Lecesne, on the other hand, are really quite good. In his Lypsinka persona, Epperson is the picture of overstated glamour. She is the aging movie queen because she's been drawn that way, all angles and perfectly coiffed flaming red hair. Lypsinka crosses the stage with the kind of killer grace most only know from old Hollywood movies, whether she's carrying a brilliantly elegant clutch or wielding a frying pan. It's pitch-perfect for the character of Leatrice.
Lecesne, on the other hand, is a barroom brawler done up in chiffon and a wig that would make Elizabeth Taylor proud. Brash and unafraid of laughing at her own jokes Lecesne makes Sylvia more of a bad girl than most women could. It's an entertaining performance that sits very well.
But if there's someone who steals the show out from under the perfect pumps of the two Legends! leads, it's White. While Story shows a certain fearlessness by going almost embarrassingly over the top, White demonstrates genuine comic flair and impeccable timing.
All the talent onstage has still not managed to turn Kirkwood's sow's ear of a show into a silk Chanel purse, but they make it a bit more attractive. More glamorous. And really, isn't that all that matters?