On behalf of the entire staff, board, and volunteers of Capital Pride it is with great pleasure that I welcome you to the 35th Anniversary of the annual Capital Pride celebration: You Ain't Seen Nothing Yet!
This has been a truly historic year for the gay, lesbian, bisexual, and transgender community in the District of Columbia. In March, following extraordinary efforts by numerous individuals and organizations, marriage equality was made a reality in Washington when the first same-sex weddings began taking place. We also witnessed the President signing the federal Hate Crimes Prevention Act into law, the first piece of national legislation to address in a positive way concerns of the LGBT community. Movement is also underway to allow domestic partners of federal employees to receive health care benefits. You Ain't Seen Nothing Yet!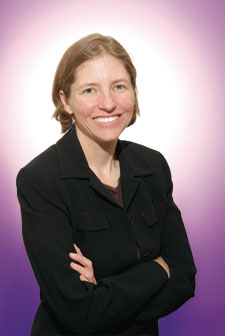 Dyana Mason
For the first time ever, the official Capital Pride calendar lists more than 50 events that will take place across the region and across the community. These include educational and cultural events that explore our rich diversity, to social events and parties nearly every evening of the week. Pride, of course, will be capped by DC's Best Parade (named by the Washington City Paper's Readers Poll for the third year in a row) and the Street Festival. Capital Pride 2010 is truly an event for and by the LGBT Community.
Most critically, this year Capital Pride has been graced by 27 organizations that joined this effort as Community Partners (as of May 15):
AHF: Blair Underwood Healthcare Center; All Souls Memorial Episcopal Church; Arlington Gay & Lesbian Alliance; Bet Mishpachah; Brother Help Thyself; Capital Area Gay & Lesbian Chamber of Commerce (CAGLCC); Child and Family Service Agency; DC Center; DC's Different Drummers; Dignity/Washington; Episcopal Diocese of Washington; Food & Friends; Gay Men's Chorus of Washington; Gertrude Stein Democratic Club; GLBT Arts Consortium; Hillwood Estate, Museum & Gardens; Human Rights Campaign; International Gay and Lesbian Travel Association; Log Cabin and DC Republicans; Mautner Project; Metro DC PFLAG; Metro Teen AIDS; Metropolitan Community Churches: The Fellowship; National Gay & Lesbian Task Force; Open Doors: More Light Presbyterians; Team DC; Washington DC JCC Gay & Lesbian Outreach and Engagement (GLOE).
Many of these organizations have scheduled affiliated events that you can find on the following pages, but all are organizations committed to shaping the visibility, diversity, strength, and vibrancy of our Community. Capital Pride would not be the event it is without their leadership and support.
Take a few moments to review this guide, identify the events and activities you would like to participate in, and please remember to thank and support all the individuals, organizations, and corporations who have brought you Capital Pride 2010. And finally, take a few moments to think of all the work that has come before us and all that we have left yet to do. You Ain't Seen Nothing Yet!
Thanks, and Enjoy!
Dyana Mason
Director, Capital Pride