If Dorothy mistook Capital Pride 2010 for the Land of Oz, she'd have a new refrain.
"Drag queens and DJs and bears, oh my."
And that's just what's on tap at the Green Lantern, where the Imperial Court of Washington will host a drag show Sunday, June 13, and various DJs and most of the city's bears will appear at some point or another over the weekend. You could even start the weekend early tonight at the Lantern for its popular Shirtless Men Drink Free event at 10 p.m.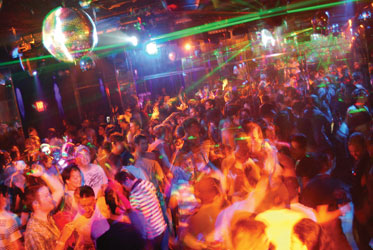 (Photo by Ward Morrison)
Every nightlife spot in town should be hopping all weekend. But we thought we'd offer you a look at the highlights to help you decide where to go — and when. Right off the bat, however, we'll say any night would be a good night for Remington's to watch hot cowboys dancing in too-tight jeans. Way to show us your pride boys!
Besides Green Lantern, Thursday also offers Cobalt's Best Package Contest hosted by Lena Lett at 12:20 a.m. EFN's Motley Bar hosts its popular weekly military party at 9 p.m. Lace Restaurant and Lounge features an Open Sushi Bar from 8 p.m. to midnight. And Town hosts Viva Equality, a benefit for HRC and Capital Pride with a concert by Spanish electro-pop band Fangoria and music by DJ Michael Brandon.
Friday sees the launch of a new weekly dance party at Apex. Called Siren, it's produced by popular local promoters and DJs Mikey Adolphson and Aaron Riggins, starting at 10 p.m. Secrets plays host to the official Capital Pride Friday Night men's party, Sweat, with DJ Jason Royce, pornstar Ricky Sinz — who performs all weekend, in fact — and 30 (!) all-nude male dancers. Downstairs at Ziegfeld's the Ladies of Illusion offer a Glee-inspired show at 11 p.m. and 1 a.m.
Last year, Town presented RuPaul. This year, the venue plays host to her chosen successors. Specifically, RuPaul's Drag Race Season 2 finalists Morgan Michaels, Tatianna and Sahara Davenport, who will appear along with the Ladies of Town and the X-Faction dancers, and DJs Wess and Back2Back starting at 10:30 p.m. Also on Friday, June 11, DJ Drew G spins for the first of two gigs at Cobalt, which also features a performance by Joey Salinas.
TheNewGay.net presents Homo/Sonic at the Black Cat starting at 9:30 p.m., while Mova brings in DJ Alyson Calagna for the first of two consecutive nights spinning in the lounge starting at 9 p.m. EFN's Motley Bar presents a DC Bear Pride party with DJ Jim Gade from Titan — and free pizza! — starting at 5 p.m. — while Lace features DJ Miss Tiff starting at 10 p.m.
The parade kicks off Saturday, June 12, near the Fireplace, so why not pop in for a drink? Among the many spots to watch the parade with drink in hand, one of the best views is Dito's at Floriana. They'll set up an outdoor patio bar for the day starting at 3 p.m. Or you could just watch the parade in the comfort of A/C on televisions at the Duplex Diner. The diner will have roving cameramen at the parade broadcasting back to the restaurant, with color commentary by a lineup of drag queens, plus tunes by DJ Bradley.
After the parade goes by and you've secured all your new beads, show them off at Apex for its weekly Under the Big Top party, this week featuring Kristina Kelly & the Girls of Glamour at 11 p.m. and the underrated DJ Melissa spinning at midnight. Or head across the river to Freddie's Beach Bar, which features music from DJ Alicia. But be warned: No telling what the fun Freddie's folk will flash for your beads.
Later in the evening, the reigning Latin party Fuego features drag performances from Epiphany, Deverux and Miss Gigi Paris Couture and beats from DJ Xtasis starting at 10:30 p.m. Lace hosts the official Capital Pride Women's Party starting at 10 p.m. And Town brings back DJ Chris Cox for its big Pride party upstairs after 11 p.m. Capital Pride's own Homo Erectus party, produced by Brightest Young Things, is at the Washington Hilton (1919 Connecticut Ave. NW), with more local DJs than you even knew existed. It starts at 9 p.m.
On Sunday, June 13, cool off at the JR.'s-sponsored beer garden at the festival — or hit the bar after for its always popular Sunday $2 Skyy drinkfest. Cobalt is hosting the Official Capital Pride Festival after-party, beginning at 6:30 p.m. and featuring DJ Drew G. Cherry, meanwhile, offers a Wild Cherry party with DJs Steve Henderson and Jason Horswill at the Donovan House rooftop, starting at 6 p.m. The DC Eagle offers a Centaur MC cookout for Pride starting at 5 p.m. Mova offers a tea dance starting at 6 p.m. with DJ Scotty Thomson. Phase 1 presents a Drag King Show starting at 10 p.m. Ziegfeld's offers a special Sunday night Pride drag show at 11 p.m. And Green Lantern offers a Bears Can Dance tea dance from 5 p.m. to 10 p.m. — with more free pizza!
Or if you're all Pride-ed out, you could head to Nellie's to watch the World Cup. Or home to watch the Tonys. After all, it's Broadway's biggest night, too.
For more details, visit capitalpride.org.