In a recent episode of Glee, Kristin Chenoweth cued up a little Burt Bacharach in an effort to once again woo Matthew Morrison's character. She's doing the same thing (almost) every night on Broadway. Yet somehow she didn't win the hearts of Tony voters either.
But there is so much competition.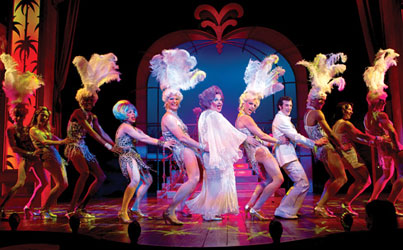 La Cage Aux Folles
One week last month, I intended to see two shows on Broadway. I ended up seeing four — the Great White Way can be addictive. The following four are among the likely winners at Sunday night's live Tony ceremony in their respective categories. In their own ways, all deserve your attention.
The idea of another revival of La Cage Aux Folles, just six years after the last, sounds ridiculous. And the fact that real-life conservative Kelsey Grammer is the biggest star as Georges? Well, this London import, a scaled-down version of Jerry Herman's 1983 musical, with a book by Harvey Fierstein, is actually a total revelation. You cannot imagine how affecting this is, nor how relevant it still is today. The best of times is now? Harrumph. Chances are, you'll be speechless and choked up after the end of both acts: At Douglas Hodge's appropriately, astoundingly venomous "I Am What I Am," which would persuade anyone of his rights and dignity, and when the couple Georges and Albin reunite on the stairs of the nightclub. If you thought this was simply sweet before, when Albin appeared in drag and the two seemed almost traditional except for, well, you know — just wait until the two embrace and kiss as the two men that they really are. It's powerful in a way that we only wish was ridiculous today.
Sean Hayes is nominated against Grammer and Hodge for best musical actor, for his role in Promises, Promises. The recent press kerfuffle over how convincing the gay Hayes is at playing straight is silly. He's as convincing as he needs to be in the role of the awkward Chuck Baxter. In fact, he's remarkable — and hilarious — in the role, which fits his klutzy, knowing style of comedy to a T. His weakness is in his limited range as a singer. But even that's less of a problem than you may have been led to believe. Instead, the biggest issue with Promises, Promises, a musical that Burt Bacharach and Hal David built using their own songs, with book assist by Neil Simon, based on the film The Apartment, is that it runs far too long, drags in key spots and suffers from a story that strains plausibility today. Unfortunately, Chenoweth was out sick the night I saw the show. But it's hard to imagine she could outperform Katie Finneran, who stuns you more in 20 minutes than most actors over the course of an entire play (or two). Finneran is up against stiff, storied competition for a Tony — Angela Lansbury, Barbara Cook — but don't be surprised if she grabs the statute. In the role of Marge MacDougall, she proves she can do anything.
American Idiot, Green Day's blistering 2004 concept album, seemed like a musical-in-waiting from the first listen. But no one could have predicted this. The resulting musical is extremely light on story and book, but remarkably heavy on tuneful music and power chords — at times with more punch than on record. Who knew punk rock could become chorus-drenched showtunes without one dint in impact? American Idiot is the Broadway equivalent of the best rock concert you've ever been to. All actors in the ensemble strap on guitars and strum at certain points, the keyboardist serves as hand-waving conductor to a band of strings tucked away in various parts of the Tony-nominated multi-story, multi-sensory set, an A.D.D. pop culture junkie's dream come true. You'll feel the bass kicking you in your seat at the St. James Theatre. And (spoiler alert) the ensemble's tender encore is an unexpected bonus.
La Cage Aux Folles




Promises, Promises




American Idiot





Memphis





For tickets, call 800-432-7250 or visit telecharge.com
Memphis is another pop-music lover's delight — though this time with a clear story to tell. Memphis has taken a bit of a drubbing for being fairly traditional. It's just a reincarnated Hairspray, some say, this time focused on a white disc jockey in the 1950s working to integrate pop radio. Or a revived Dream Girls, with its focus on a rising black female singer (the dazzling Tony-nominated Montego Glover). The fact that a member of Bon Jovi, of all pop acts, wrote the music and co-wrote the lyrics is, admittedly, initially unsettling. It just sounds like a milquetoast musical. But just wait until you see it. Chances are you'll relate to this musical by David Bryan and Joe DiPietro in some way or another. Memphis may be a tad too subtle in its handling of racial conflict, but it doesn't shy away from the reality that rock became popular only after white elites co-opted the style from black artists. The closing number is titled "(Never Let Anyone) Steal Your Rock 'N' Roll," after all. It's not as edgy of a declaration as Green Day might have put it, but it's still a degree or two more uncomfortable than a shopworn musical of yore — or Hairspray. And if that old-fashioned musical caper can win a Tony for Best Musical….