A 31-year-old gay man from Spotsylvania, Va., has been missing since Sunday, June 13, according to the Metropolitan Police Department.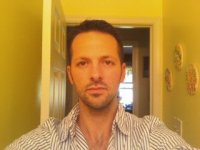 Edward "Ted" Roland Minnoe
(Facebook photo courtesy of MPD)
Edward "Ted" Roland Minnoe, who works as a manager at Petco in Fredericksburg, Va., was last seen at Ziegfeld's/Secrets, at 1824 Half St. SW, wearing "a white tank top, plaid brown and blue shorts and flip flops."
"His right ear is pierced one time with a diamond stud," reads an MPD press release issued on Thursday, June 17. "His left ear is pierced twice and had a gold stud earring and a gold hoop earring in. He was also wearing a silver 'Rainbow' ring on one of his fingers."
Minnoe is five feet and eight inches tall, weighing 135 pounds. A tattoo of the name "Luke" is on his right leg, and a tribal-band tattoo is on his right arm. MPD advises Minnoe may also bear a tattoo of an "Asian dragon" on his left upper arm.
According to Minnoe's sister Jane Bernstein, Minnoe was with "roommates and friends" when last seen Sunday.
Bernstein says she's received secondhand information that her brother had become intoxicated and his entourage attempted to convince him to leave the entertainment complex, but that he instead left "with some weird-looking guy."
MPD states that witnesses say Minnoe was last seen "speaking with an unknown race male inside the club."
Chris Farris, spokesperson for Gays and Lesbians Opposing Violence (GLOV), told Metro Weekly the group is working with minimal information in spreading awareness about Minnoe's disappearance.
"I don't think anyone is holding back information," Farris says, "I just don't think anyone has a whole lot of information."
"We have no way of knowing whether this is something to be alarmed or simply concerned about, or the circumstances surrounding his disappearance."
Farris says police did provide GLOV with a flier, which has since been posted on GLOV's website and Facebook page. "We're doing our part to get the word out and to try to help MPD get to the bottom of it."
Bernstein adds that it's out of character for her brother to go days without contacting her family or tending to his pets.
"My brother has always been responsible being at work on time every day," she says. "He was a manager and was never late to work. He would call and let somebody know he wasn't going to be there."
She says Minnoe is also devoted to his two dogs, adding to his family's alarm.
"He comes to family gatherings and leaves early because he wants to go take care of his dogs. This is way out of character for Ted to not go home to his dogs, or show up to work."
Minnoe's family filed a missing-person report with Spotsylvania County Police on Tuesday, June 15.
Anyone with information is asked to contact the Spotsylvania County Sheriff's Office at 540-582-7115.