"I just hope that President Obama steps up to the plate on LGBT issues."
Mentioning repeal of the "Don't Ask, Don't Tell" policy and the Defense of Marriage Act, Maru Gonzalez, a school counselor who works with the Gay, Lesbian, Straight Education Network (GLSEN) also said on Tuesday, June 22, that she hoped Obama would work on "pushing through the Safe Schools Improvement Act and helping to push through the Student Non-Discrimination Act."
As the Obama administration hits its second pride month, it held a second LGBT Pride Month Reception in the East Room of the White House. Although the president spoke about how, in the past year, "we marked the enactment of the Matthew Shepard Act" – referring to the hate crimes prevention law signed into law in October 2009 – and mentioned other accomplishments at the Tuesday evening event, the attendees were focused on what still lay ahead.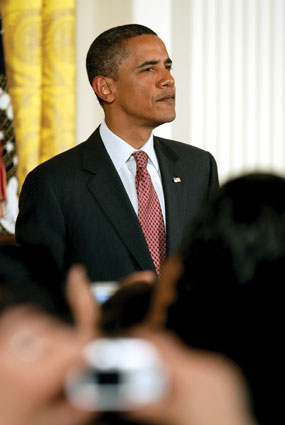 President Obama at the LGBT Pride Month Reception
(Photo by Ward Morrison)
Saying that she wanted to hear "where his head and heart are," newly out country singer Chely Wright, coming off her headlining appearance at D.C.'s Capital Pride Festival, attended this pride event looking for someone else to perform.
"I hope to hear him say a lot of things about public schools. We … want to eradicate all bullying from public schools," Wright told Metro Weekly before Obama joined the crowd of activists from across the country. Referring to the two education bills, she added that the legislation, "needs to be pushed forward, and I want to hear him address that."
Everyone at the White House LGBT Pride Month Reception wanted to hear the president, who has faced criticism for the pace and "fierceness" of his advocacy on behalf of LGBT equality, address one or several issues of importance to them – from the repeal of DADT and DOMA to the passage of the Employment Non-Discrimination Act to speaking out against Florida's anti-gay adoption law.
Part of the GLSEN delegation – which consisted of five youths and their guests – included Austin Laufersweiler, a recent high school graduate from Georgia who was in D.C. earlier this year lobbying Congress to pass the two education bills.
Laufersweiler expressed similar aims to those expressed by Wright and said he was looking forward to "the affirmation and support of the president, which we've been getting some already." Saying it was an honor to be there, he added, "It's great that the White House is commemorating this event."
Out gay Rep. Jared Polis (D-Colo.) also attended the reception and was heartened to see the attention being paid to the Student Non-Discrimination Act, which he introduced in Congress earlier this year and currently has 116 co-sponsors, as well as the safe-schools bill.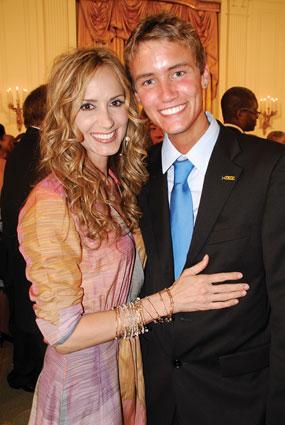 Chely Wright and Austin Laufersweiler at the White House
(Photo by Ward Morrison)
"I carry a lot of education bills," Polis said of his congressional work on education issues, "and far and away, the Student Non-Discrimination Act has more co-sponsors than any of my other education bills."
Although Obama did not endorse either piece of legislation in his remarks, he spent a significant part of his 13-minute speech addressing LGBT youth issues more generally.
Speaking about young people who have "felt like outcasts, who have been scorned or bullied," as well as "families here on behalf of loved ones who are no longer with us," Obama said, "This is a reminder that we all have an obligation to ensure that no young person is ever made to feel worthless or alone – ever.
"Now, at the same time, I think there's plenty of reason to have some hope for many of the young people including those who are here today," he said. "They've shown incredible courage and incredible integrity, standing up for who they are. They've refused to be anything less than themselves."
With Vice President Biden at his side, Obama – like the activists in the room – also looked forward on the legislative front, reiterating his support for the passage of ENDA and the repeal of what he termed "the so-called Defense of Marriage Act."
Regarding DADT, he told the crowd, "We have never been closer to ending this discriminatory policy. And I'm going to keep on fighting until that bill is on my desk and I can sign it."
After his speech, Obama shook hands for a few minutes, shook Biden's hand and left the guests to enjoy food and drinks in an adjacent room.