Lt. Dan Choi and former Capt. James E. Pietrangelo II walked inside a D.C. Superior Courtroom on a rainy, humid, Tuesday morning, prepared for trial.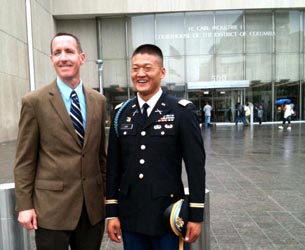 Pietrangelo and Choi outside courthouse after charges were dropped
(Photo by Chris Geidner)
The D.C. Attorney General's Office, however, dropped two failure to obey a lawful order charges against the two men, stemming from two demonstrations, one on March 18 and another on April 20, in which Choi and Pietrangelo handcuffed themselves to the White House fence in protest of Don't Ask Don't Tell.
"We've been to jail overnight twice, but sometimes it takes sacrifice and our community needs to learn that a lot more," Choi said after the judge dismissed the cases.
"The government does not wish to proceed on these cases at this time," Christine Chang, special assistant to the attorney general, told D.C. Superior Court Judge Fredrick J. Sullivan.
"Your cases are dismissed," Sullivan replied to Choi and Pietrangelo. Chang confirmed after that ruling, that Choi's order to stay away from the White House compound is no longer in place.
Speaking to reporters following the ruling, Choi said he will demonstrate against the military's discriminatory policy again.
"The policy is not gone, so as an officer I still have a responsibility and a duty to speak out for those people who don't have a voice… I'm not going to stop until Obama does, and this country does [what is needed] to make sure that Don't Ask Don't Tell is fully gone."
He added that he was not surprised by the decision.
"We were all ready to show exactly what 'Don't Ask Don't Tell' was in a very public way," he said. "We were so serious to the point that we subpoenaed our commander in chief."
Choi said he did not get a response from the president regarding the subpoena, and that he will continue to demonstrate and protest.
Pietrangelo echoed those sentiments.
"We're not going to lighten up a bit," he said.
"As long as 'Don't Ask, Don't Tell' remains we're going to continue to oppose it and condemn it and demand equality."
Among those attending the would-be trial were two former servicemembers who served in Iraq and were kicked out of the military under DADT, Julianne Sohn, former second lieutenant in the U.S. Marine Corps, and Anthony Woods, Iraq War U.S. Army veteran and former candidate for Congress in California. Robin McGehee, Paul Yandura and several Get Equal activists and organizers also were in attendance.
Chang, speaking to reporters outside the courtroom, did not elaborate on the reason for the dismissal. The D.C. Attorney General's Office did not immediately respond by publication time to a call seeking comment on the decision.
Chris Geidner contributed to this report.