Special Agent Galactica is every woman – figuratively. The lip-syncing character whose attire usually entails a pink wig, short dress, heels and subtle makeup, "channels" – Galactica does not impersonate – everyone from Ella Fitzgerald to Dolly Parton to Stevie Nicks to Pink.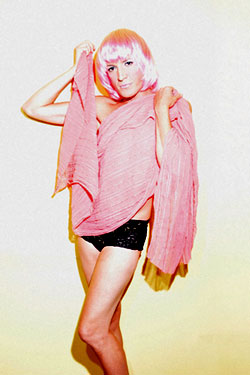 Special Agent Galactica
(Photo by Todd Franson)
But she's particular, according to Jeffrey Johnson, the man behind the makeup. Don't expect Galactica to take on anything by Madonna, Lady Gaga or Cher.
"There are just some artists to me that are so specific that you almost have to impersonate them," Johnson says, adding that he avoids certain stars to instead allow Galactica some room for interpretation in her "channeling."
Johnson has been performing as Galactica, whom he refers to in third person, for nearly eight years. And it's time, he says, to take her act to a new level by presenting an annual live show.
"I'm thinking in the fall, or maybe for New Year's, of actually going live with it – not lip-syncing."
Before that, however, Johnson is offering a handful of performances at this year's Fringe Festival through the end of July with Irrelevant Acts of Entertainment, featuring Galactica and her backup boys.
"Since it's one of Galactica's big, theatrical, full-out events, we've been rehearsing for over a month," he says. "It's all different styles of music. There's a section of standards, there's an a capella section, there's rock and roll, contemporary, there's a couple of spoken-word comedy monologues, there's dancing, and big production numbers. There's everything.
"Since the audience that would normally come to Fringe probably hasn't experienced Galactica, I took the last three festival shows and pulled the best stuff from that and then added in some new stuff, so it's a mixture of some greatest hits, as well as some new hits that are great."
For Johnson, founder of Ganymede Arts, it all began when he was a kid growing up in Horseheads, N.Y. He would find himself in front of a mirror lip-syncing along to show tunes from classics such as Evita.
"I'm an only child, so the way I would entertain myself was to go upstairs and put my headphones on, and just kind of sing along with it. But since I couldn't just belt out, I did more like lip-syncing, without knowing what I was doing. Since I've been doing it since I was a little kid, I guess I've perfected it."
Johnson approaches each song like a script, studying the emotion and pronunciation of every word.
"I really do consider lip-syncing…an art form," says Johnson. "People seem to think I do it well and I do enjoy it. I think it's bringing life back into the performance that was recorded.
"I never try to impersonate," he continues. "It's really exhausting because you have to recreate the same emotions that they do. The nice thing is you've got the inspiration to take you there. Whereas if you're acting, you have to just pull all of that out yourself. It's very liberating. And there's something about being in the dress, and the wig and the makeup, that since I've been doing her so long, she really has her own identity."
Special Agent Galactica in Irrelevant Acts of Entertainment plays Friday, July 16 at 6 p.m., Saturday, July 17 at 12:45 p.m., Friday, July 23 at 8:15 p.m. and Saturday, July 24 at 4 p.m. All performances at The Shop at Fort Fringe, 607 New York Ave. NW. Individual tickets are $15. Call 866-811-4111 or visit capfringe.org.