"I'm alive and I'm on fire," Sarah McLachlan sings on "Loving You Is Easy," the first single from her new album. "Shot like a starburst throw the sky." The song isn't quite that explosive, of course, but it is more radiant than we've come to expect from the mostly genteel 42-year-old Canadian balladeer. At several turns on Laws of Illusion, McLachlan channels the Beatles, and not just the seminal pop band's early, innocent days. There's a slight psychedelic rush to much of the proceedings, as she struggles to balance present pleasure with a painful past and uncertain future.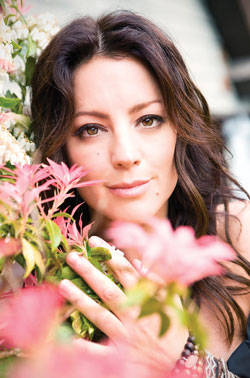 Somber and psychedelic: McLachlan
(Photo by Raphael Mazzucco)
Opening track "Awakenings," for example, grows from a wispy, sweet ballad to become a blistering rock number — well, as blistering as McLachlan gets anyway. Ultimately, it's a devastatingly beautiful song, an emotional firecracker about the need to love oneself before you can adequately love someone else.
"I point the finger out, the anger gets so loud," she sings, floating her voice up an octave in her characteristic fashion. "It drowns out all the sorrow. At least until tomorrow. What then?"
Laws of Illusion is McLachlan's first studio album in seven years, and the first since the 2008 end of her 11-year marriage to her former drummer — and father of her two young daughters. But if you don't pay attention to the lyrics, which to their great credit can be brutally honest about the divorce, you don't really hear pain or anger any more than before. McLachlan works once again with writer/producer Pierre Marchand, her creative partner for nearly two decades now. Musically, the two mostly just pick up where they left off, producing music a tad too tame and tender to hold interest.
To take just one example: "Rivers of Love" sounds like a wan, modern-day Tears for Fears ballad. Call it adult-contemporary contempt. I'd rather drown.
Even after her recent personal travails — and after more than a decade when many of her ballads retained, and often enhanced, their emotional potency through remixes made for the dance floor, earning her a legion of new fans in the process — McLachlan's still loathe to pick up the pace. A mid-tempo churn is her idea of a world on fire. The sharpest trick McLachlan employs is to cut many of the songs before you're ready for them to end. You'd certainly expect more — especially since Laws of Illusion was timed for release to help promote the revival of McLachlan's Lilith Fair, dormant for more than a decade. McLachlan is providing a forum for a slew of women to rock and cause a ruckus — but no thank you, she'll just stay smiling and swaying, building a mystery.
McLachlan's music can be too pretty and pristine — prim and proper — for its own good. One result is that her songs are often hard to distinguish from one another. It sounds like you've heard many, or most, of them before. (And in the case of three on Laws of Illusion, you have: "Don't Give Up On Us" and "U Want Me 2" were first released on her greatest hits set in 2008, the same year that a version of the Enya-esque "Bring On The Wonder" was featured on the soundtrack to the TV show Bones.)
Another problem with McLachlan's mannered musical sensibility: It makes it too easy to overlook her artful lyrics. Because if you let them — if you force yourself to notice — it's her lyrics that'll grab you. She's more accomplished as a lyricist, proving herself to be a captivating commentator on love and the human condition.
"Here I go again, saying things I shouldn't say — just so I can hear them back from you," she sings on "Illusions of Bliss," a phrase that describes what her marriage was, obviously. You can get so wrapped up in an illusion it becomes reality, at least for a little while — and you suspend your better judgment and do things you'd rather not do. Like rock, in McLachlan's case.
SARAH MCLACHLAN
Laws of Illusion
Arista
$13.98



Performing 8/3
Merriweather Post Pavilion
As part of Lilith Fair
"You ask for forgiveness — you're asking too much," she sings with a sting on "Forgiveness." "I have sheltered my heart, in a place you can't touch." Musically, the song echoes Bonnie Raitt's aching masterpiece "I Can't Make You Love Me." Indeed, the ballad, which should be laced with emotion, registers as little more than uninspired laziness, with McLachlan singing in her too-sweet fashion. That is, until the bridge offers a musical edge that goes some way toward matching the lyrical heat, carrying the song out in tempered fury. If only it wasn't quite so tempered. If only McLachlan actually got furious once in a while.
Still, she can turn on the charm and win you over anyway. "But when I'm lying here with you, and the whole world's out of tune," she sings on the love song "Out Of Tune," "you're the one and only voice that makes things right — so stay with me tonight."
When you put it like that McLachlan, we will. At least until tomorrow. What then?