"I'm still working this out."
If you walk away from Theater J's production of David Ives's play New Jerusalem: The Interrogation of Baruch De Spinoza at Talmud Torah Congregation: Amsterdam, July 27, 1656 thinking anything but this, you may well have missed your true calling.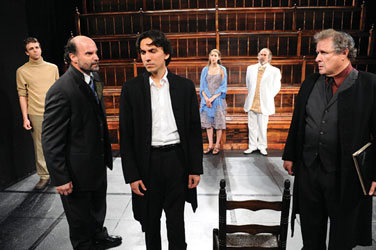 The Interrogation
(Photo by Stan Barouh)
Or, perhaps you didn't. Perhaps you ignored all arguments to the better and actually majored in philosophy. Perhaps you had Spinoza posters in your dorm room and wore a "Desire is the essence of a man" T-shirt while trying to score at keggers.
A mix of fact and fiction, theology and philosophy, The Interrogation is an immensely complex exploration of everything from the nature of God to the existence of the human soul. The Interrogation tumbles forward, moved by a complicated clockwork of interlocking arguments and grand debates discussed with great intensity.
It's also fantastically, some would say surprisingly, entertaining. In fact, if there is a flaw to its execution it would be that director Jeremy Skidmore holds back from fully trusting the strength of Ives's thought-provoking writing, shooting it through with movement and maneuvers that begin to feel gimmicky and unnecessary. But these are minor distractions to a production that is so otherwise well realized.
The Interrogation is playwright Ives's fictional account of what occurred during the real life prosecution of the philosopher Spinoza. Born in Amsterdam in the early part of the 1600s, Spinoza's family was part of a substantial Jewish community that first took hold as Jews fled the Inquisition taking place in Spain into Portugal. However, despite the fact that some Jews considered Amsterdam to be a "New Jerusalem," rules governing their faith practices were strict. In the name of maintaining balance and the structure of what was, at the time, a remarkably diversity-tolerant community, rules were established to block such things as marriages between Christians and Jews. Even the most reasonable discussion of matters of faith between Christians and Jews were prohibited.
It is into this landscape that the twentysomething Spinoza's personal philosophy began to develop — a broad, expansive and, to some, intensely threatening set of ideas that called all the basic beliefs and tenets into question.
As The Interrogation begins, word of Spinoza's (Alexander Strain) philosophical discussions about God and religion have spread from the coffeehouse to the attention of Abraham van Valkenburgh (Lawrence Redmond), a wealthy and influential patron of the city. Valkenburgh asks that Rabbi Saul Levi Mortera (Michael Tolaydo) call Spinoza before the congregation of the Talmud Torah to demand that Spinoza, put simply, stops rocking the boat.
The alternative being "cherem," complete and total excommunication from the Jewish community.
To be sure, by starting with the story of Spinoza and the most well-known cherem in history (admittedly, this is not the same as saying "the most well-known rock album of all time," but you see where we're going here…), Ives has given himself a rich and fertile ground in which to seed his drama. He draws it carefully and exceptionally, understanding how easy it is to allow personal fascination to overwhelm true dialogue. His writing is neither academic nor does it sound like the insider debates of a crew of self-impressed graduate students.
Ives unspools both Spinoza's ideas and passion slowly and with something that might most closely be compared to a kind of grace. He's recognized the critical element that very rarely makes it beyond the proverbial footlights. As The Interrogation unfolds we not only recognize what is at stake for the characters caught up in the play, but what is actually at stake for all of us, centuries and continents from this synagogue in Amsterdam.
Strain is wonderful as the brilliant though not always likable Spinoza. An engaging mix of youthful bravado and cocksure posturing, Strain plays him as the smartest guy in the room who is quite certain he is the smartest guy in most rooms. It's a strong and completely committed performance where Strain's belief in the character shines clearly through.
Equally resonant is Tolaydo's Mortera. We almost literally watch his heart break, the teacher forced to ask his most favored pupil to betray his own beliefs for the greater community. Tolaydo is a strong voice and imposing presence delivering a gravity-making performance.
As Spinoza's cohorts Clara and Simon, Lauren Culpepper and Brandon McCoy offer measured, refreshingly spare performances that nicely support the overall production. While certainly not shrinking into the shadow cast by Redmond's very aggressively realized Valkenburgh, they manage a well-portioned and richly deserved bit of the spotlight.
THE INTERROGATION




To July 25
Theater J
1529 16th St. NW
$30-$55
800-494-8497
theaterj.org
That praised, if there's a quibble to be had with The Interrogation it's with Skidmore's decision to too frequently break his cast free from the boundaries of Misha Kachman's beautifully rendered set and send them into the audience. Had it been done in another setting, a place where such movements up and down aisles and across balcony spaces could be done more organically, it might well have worked. But in the very traditional space of Theater J's Aaron & Cecile Goldman Theater, it becomes too awkward. One can almost here the "hee, hee, we're in the audience" giggles. (Actually, when actor Eliza Bell makes her entrance you quite literally do here that out-of-sync laughter.) It's an unfortunate distraction.
Fortunately, that's the only notable flaw to the brilliantly well-executed New Jerusalem. Theater J has brought together a fine cast to perform a wonderful play, rewarding all of us who are quite pleased to not have to take a summer vacation from the D.C. theater scene.'