The Metropolitan Police Department held a press conference on Tuesday, Aug. 10, shortly after 4 p.m., outside of an apartment complex at 1117 10th St. NW, where one day prior D.C. resident Delando King, 34, had been found stabbed to death.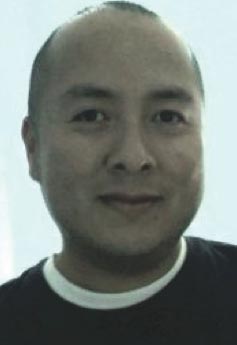 Delando King
(Photo by MPD)
According to police, the victim was found shortly after 6 p.m., on Monday, Aug. 9, inside his third-floor apartment at Quincy Court. Police are on the lookout for a "person of interest" believed to have been invited to the residence by King after a night out. The unidentified man was captured on a surveillance camera entering King's apartment and then leaving alone with a bag. MPD plans to release photo images of the man to the public in an effort to seek information.
King's homicide occurs in the wake of five recent attacks occurring in D.C. between June 2 and July 30, all of which included some degree of anti-gay bigotry. MPD Capt. Michael Farish responded to inquires on whether King's homicide is any way related to those occurrences during Tuesday's press conference.
"What we're seeing in this incident has absolutely no indication of being related to those incidents," he said.
The first of those incidents occurred during the early evening of Wednesday, June 2, when three young black males attacked a man on the 1500 block of R Street NW as he was tying his shoelace. The assailants struck him with a wooden object and used a homophobic epithet.
On Tuesday, July 6, around 9:30 p.m., two men attacked another on the 800 block of Emerson Street NW, about a block east of Georgia Avenue. The victim was thrown to the ground, and the assailants used an anti-gay slur. The suspects in this attack were both described as black males with medium complexions.
One was further described as 30 to 35 years old, nearly 6 feet tall, weighing about 175 pounds, with a short buzz haircut, wearing a white tank-top and blue shorts. MPD describes the second suspect as 25 to 30 years old, about 5 feet and 7 inches tall, weighing about 150 pounds, with short black hair and a goatee. The second suspect was wearing a yellow polo shirt and blue jeans.
Just after midnight, minutes into Saturday, July 24, a man on the 2000 block of P Street NW who was with friends was approached by "several black males," MPD reports. The victim told MPD that the group asked him if he had directed a homophobic epithet at them, then knocked him to the ground. The assailants then stole his phone. One assailant was described as having a dark complexion, weighing about 170 pounds and wearing a red shirt.
Three days later, July 27, a block from the June 2 incident, possibly six black males attacked a man as he was entering the lobby of a building on the 1400 block of R Street. One suspect used an anti-gay slur as the group punched and kicked the victim, who was treated for his injuries at a local hospital.
The victim said the assailants appeared to be in their late teens. He further described one suspect as having a medium build, dark complexion and short, braided hair. That suspect wore a white T-shirt. No time was given for the attack.
Finally, on Friday, July 30, at about 1:45 a.m., a man alleges he was attacked as he left a venue at 22nd and P Streets NW. The victim says he bumped into one of his assailants on the sidewalk, who then uttered an anti-gay slur. The victim reported that he attempted to flee, but was followed by the man into whom he had bumped, along with a crowd of about 15 to 20 "black males and black females."
The victim, who was struck from behind and knocked to the ground, said the group fled the scene in three vehicles he reported to be a white Chevy Impala, a blue Toyota Corolla and a silver Dodge Charger, all with Virginia tags.
In their Aug. 3 advisory about these attacks, MPD reported that the department is "examining the cases for possible similarities. However, at this time, it has not been determined that these incidents are related."
The MPD advisory prompted Gays and Lesbians Opposing Violence (GLOV) to issue its own community alert, on Friday, Aug. 6, "in an attempt to protect members of the community, raise community awareness and solicit information from the public."
The GLOV statement advises members of the local LGBT community to use cabs and bicycles when possible instead of traveling on foot. The group urges members of the community to travel in groups or pairs, especially at night, and especially when impaired or intoxicated. The advisory recommends that if anyone were to witness another person walking alone and intoxicated, that it would be best to intervene. "You might save his or her life."
"If you feel threatened, call 911 immediately. Don't be embarrassed — it is better to be safe."
Concerned gay D.C. resident Keith Jarrell says the statement from MPD summarizing the attacks is "too little too late."
"I think MPD is very irresponsible when it comes to the gay community," he says. "I think they have backed off and they have been very hesitant to ever notify the community that there are attacks that take place.
"MPD is managed well and they're good people, but their mode of communication is just lacking a level of expertise that they should have in place."
Jarrell says he is hoping to see quicker communication and alerts regarding assaults in which LGBT people are targeted.
"If one person could have been have been prevented from being beaten and called bad names by an earlier press release then [MPD is] obligated to have done it."
Whitman-Walker Clinic spokesperson Chip Lewis told Metro Weekly that officials with the organization plan to issue an internal alert for patients and staff regarding the attacks that took place near WWC's Elizabeth Taylor Center at R and 14th Streets NW, near two of the attacks.
"We are notifying our staff about being more cautious when coming and going to the clinic, especially if they're going to be here late at night," Lewis says. "We're going to [urge] people who come to the clinic to be more cautious and more aware of who may be around them, and what dangers there might be."
Will O'Bryan contributed to this report.
Anyone with information about any of these incidents is urged to contact MPD at 202-727-9099 or 1-888-919-2746. Information may be submitted anonymously by calling 1-866-411-TIPS or via text to 50411. Anyone offering information that leads to an arrest and indictment may be eligible for a reward of up to $1,000.