Cuts, bruises and a shoe print.
That's what remained on Todd Metrokin's face after he was beaten on an Adams Morgan street by a group of men in the summer of 2008. The men stomped on Metrokin, 41, repeatedly, calling him "faggot" and knocking him unconscious.
Two years later, Metrokin is still recovering.
"I see dark alleys much differently than I used to," he says.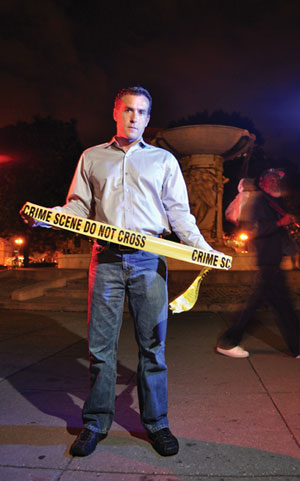 Chris Farris of GLOV
(Photo by Todd Franson)
Metrokin's attack was enough to set local gay resident Chris Farris on a mission, which was to bring back Gays and Lesbians Opposing Violence (GLOV), an organization that in the '90s focused on raising visibility about anti-LGBT attacks, and increasing sensitivity among personnel of the Metropolitan Police Department (MPD) and the D.C. Fire and Emergency Medical Services (EMS).
Farris, a 43-year-old corporate governance and compliance attorney who lives in the District with his fiancé, remembers the anger he was feeling then.
"When I had heard that Todd had gotten beaten, and it was for no other reason than that he was gay, and his friends were gay, and they were being called fags, and it happened in Adams Morgan with people standing around, and that he had to be hospitalized – that's when I had just had enough," he says.
Farris called for an impromptu meeting with other concerned LGBT Washingtonians to consider relaunching GLOV. Tragically coincidental, the night before the meeting, another gay man, Tony Hunter, 37, of Clinton, Md., was attacked while walking with a friend to a Shaw neighborhood gay bar from his parked car.
Days later, Hunter died from the injuries he suffered that night. And GLOV was revived with Metrokin and Farris as the group's co-chairs just in time to express outrage over the handling of the trial surrounding Hunter's attack – particularly because the attacker, then 19-year-old Robert Hannah, claimed that Hunter had groped him and he had punched him in a state of panic. Hunter fell after being punched, hitting his head on the sidewalk. Hannah was charged with "simple assault" and given 180 days behind bars.
That was two years ago.
Since then, some things have changed. Metropolitan Police Chief Cathy Lanier has reorganized the functionality of the Gays and Lesbian Liaison Unit (GLLU) to all seven police districts, though with fewer full-time officers.
The officer who had lead the GLLU, Sgt. Brett Parson, has moved to another assignment, at his request, and is no longer involved with the unit. And while frustration regarding a lack of communication between MPD and the community when crimes occur seems to have grown, MPD is making strides by collaborating with such groups in its training of officers serving the Special Liaison Unit, which includes the GLLU.
Still, much like two years ago when GLOV first re-formed, a heightened sense of danger among D.C.'s LGBT residents remains.
During a two-month span this summer, MPD reported a handful of cases involving bias-related incidents. Then Delando King, a 34-year-old man living in the Logan Circle area, was found stabbed to death inside his apartment after a night out at Omega, with surveillance video suggesting he invited his attacker into his home. The violence continues with rumblings of LGBT-related crimes yet to be confirmed or reported to the general public by MPD. Most recently that may include a mid-August incident involving a transgender victim, according to Earline Budd, healing and treatment specialist at Transgender Health Empowerment (THE).
"A transgender woman is said to have been thrown off of her third-floor balcony on Florida Avenue NW and is supposed to be in critical [condition]," Budd wrote in an Aug. 24 e-mail to Sgt. Carlos Mejia, who heads the SLU, seeking confirmation and more details.
Leading GLOV today are co-chairs Kelly Pickard and Joseph Montoni. Both agree that the climate for LGBT people in D.C. is no safer than it was when they took leadership in January.
"The problem is not simple," Pickard says. "And the solution is not going to be simple. It's not just a matter of whether the disbanding of the GLLU was or is the singular cause of violence, nor is the solution just restoring the GLLU to its original [staffing] levels."
While agreeing with Pickard that restoring the centralized GLLU is part of the solution, Montoni says, "There is a tremendous need to get at the root cause of the issues that create a climate and a culture of violence.
"That need is great. It is greater than the capacity of a small volunteer organization, because it involves schools and bullying. It involves churches and faith communities. It involves working with the communities at risk and also with MPD. There are so many different facets to this that it's not a clear-cut issue."
Vacationing in Provincetown, Mass., Farris, serving as the group's spokesperson, took time to speak with Metro Weekly about what's happening in the District and what GLOV can do about it.
METRO WEEKLY: How safe do you feel in Provincetown, compared to Washington?
CHRIS FARRIS: When I walk down the street in Provincetown, it is literally inconceivable to me that I would be attacked. It's just not even remotely conceivable. That contrasts very sharply, unfortunately, with when I walk down the street in my own neighborhood in D.C. where I am always looking over my shoulder, very, very aware of my surroundings, and fearful of what might be around the corner. It's a completely different feeling.
Something that gives me hope is New York City. I feel completely safe in New York, anytime of day or night. Walking around Manhattan, I feel no fear. If New York can accomplish that, I think D.C. can too.
I don't have the answers as to why. Maybe it's partly because there are so many people around. I don't know what the secret is, but for some reason they have been able to create a very busy, very cosmopolitan city that at least feels safe.
MW: Would you say crimes against the LGBT community are rising in the District?
FARRIS: When we first sort of restarted GLOV, we felt very much that attacks against the LGBT community were increasing and that the statistics that we were getting from the city were not reflecting what was actually happening. I would say that is still the case. So, the problem that we have is absolutely no communication with the MPD to allow us to really say at an objective level, "Looking at statistics, yes, they're going up," or, "No, they're not going up." There's absolutely no way to say that on any empirical data. All we have is anecdotal evidence because our ability to get quality and empirical data from the city, in my view, is nonexistent. That continues to be the case.
When we first restarted GLOV we were making amazing progress in cleaning up the statistics, in making sure that the statistics were more accurate as to what was actually happening. The problem is two things happened: One, Brett Parson, who was an enormous ally for us within the GLLU, took a new assignment. The second thing is, in my opinion, there became a reduced willingness on the part of the MPD to be transparent with us. That's my assessment. Brett was very much about transparency, very much about communication, very much about dialogue. If I heard about a case, he would make sure it was coming up in his statistics. If he heard about a case he would make sure it was in our statistics. We had a way of making sure that we were tracking these things so that we can answer questions like you're asking, which is, "Is there an increase?" These are fair questions that we should be able to answer, but we just can't. We can't because we're not getting clear communication on what's happening with these crimes.
I beg people – I implore people – to report their crimes and their incidents. Until we have solid reporting, we're never going to win the perception battle in the city over what is the accurate state of when these crimes are happening, where these crimes are happening, and how many are happening, whether they're going up or down. Until we really have a culture of reporting, we're not going to make the progress that we need. We really need people to come forward. If they want to come to GLOV and report and they don't want to report to the police, and they want to do it anonymously, we never ever reveal names without permission. I would prefer that they also report to police, but in numerous cases I've understood why people have made decisions not to – if they're not out, maybe they were drinking and they're embarrassed, they weren't supposed to be out – whatever the reasons are. But at least report it to us just so we know what's happening out there. They can report to us at report@glovdc.org.
MW: There has been some debate about a perceived rise in bias-related attacks simply being an increase in reporting such crimes, rather than an increase in the actual number. Do you have an opinion on that?
FARRIS: I actually do believe that we have been seeing an increase [in bias-related crime] over the past couple of years. The whole reason that we reconstituted GLOV a couple of years ago was because those of us who showed up at that first meeting all showed up because we all felt, based on what was happening in our neighborhoods, based on what was happening with our friends, that there was an increase. That's why we started it.
Even then – when every single city official constantly told us that we were making something out of nothing, that the crimes were not going up, that we didn't know what we were talking about, that we weren't basing our assessments on empirical data – we all felt that the statistics were not accurate and they were a lagging indicator of what was really happening. What you're seeing now, if the statistics had been accurate and consistent all along, is an increase.
MW: What do you remember about GLOV's first inception in the '90s?
FARRIS: I wasn't very involved, other than just as a member of the local LGBT community. I remember seeing GLOV, I remember seeing the name of GLOV, and I remember reading about GLOV. I remember hearing a lot about the things GLOV was doing: working with MPD to increase sensitivity, working with EMS to increase sensitivity, and working to really raise awareness of violence against the LGBT community.
MW: Do you think the original GLOV might have fizzled as a result of MPD starting the GLLU?
FARRIS: That's probably a fair point. The GLLU, especially under Brett, back in that time period was a phenomenally successful policing vehicle – and award-winning at that. But it has completely changed.
I don't feel like we have a really strong centralized GLLU with a really strong leader. I just don't feel that that exists right now. And that's something that I think is harmful to the city, to our community, and to the efforts to keep violence down. I'm not happy with the changes that have been instituted. I directly and personally told [MPD Chief Cathy Lanier] in a meeting, when she first told me and Todd [Metrokin] about her idea, that the general idea was a good one, which was to keep a strong, centralized GLLU, and then to have satellite officers in all of the various police districts. What has really happened is a significantly weakened centralized GLLU and a bunch of satellite officers who honestly don't fully, I think, understand their roles. I can't even say what their roles are. It's murky. And it's murky because we don't have a strong, centralized GLLU.
I'm sure that what the chief would say is, we do have a centralized GLLU, there are still some people in that headquarters, but it has not been functioning anywhere near to the level that it was functioning in the days of Brett. I don't think anybody could dispute that.
MW: GLOV resurfaced shortly following the death of Tony Hunter. What was happening at that time and why did you guys decide to do something?
FARRIS: The very first meeting, ironically, occurred the day after Tony Hunter was beaten. But we didn't know about Tony Hunter at that meeting. What triggered the meeting for me is I had been increasingly concerned about what I saw as anti-LGBT violence around me. I saw it on my street, I saw it in my neighborhood, and I heard about it from many of my friends. A lot of it seemed like muggings that were almost targeted, where I felt that, particularly, gay men were targeted probably out of a belief by the perpetrators that they were weak, that they were easy prey and that they were targets. A lot of times, I was sensing that these things were probably happening late at night as they were coming home from bars, maybe even impaired, intoxicated or whatever, but that they were clearly being targeted. That culminated for me when Todd [Metrokin] got attacked.
I talked to Todd for a long time. I told him that enough was enough and we needed to start raising awareness about this issue. I asked him if we could use his story as a way to raise awareness, because I just believed that having a face, an actual person, where you could see not only the person, but the extent of the injuries, that that would really help move people. I wrote a blog piece for The New Gay and Todd was brave enough to let me use the pictures of his face after the attack. It was in those pictures that you could see the shoeprint, underneath his eyes, of one of the guys who stomped on him as he was unconscious on the ground. He stomped on his face yelling "faggot." Being able to write about that, and being able to show the pictures generated a lot of interest.
A lot of people started saying, "Let's get together and see what we can do about this." The DC Center offered to host it and we had an impromptu meeting on a Monday night at The DC Center. That's where I first met [The Center Executive Director] David Mariner, and that's where the new GLOV started.
At that meeting, that was a Monday night, we did not know about what had happened the night before, which was the Tony Hunter beating. What happened with the Tony Hunter thing was we started getting more concerned because it was such a violent attack and I just got a sense that we were not getting clear and open communication with the police on the crime. Who were they looking for? What were the circumstances? How did this happen? And then it slowly devolved into the "gay panic" defense.
I just felt like we were back in the 1950s. I just kept saying, "How could this be happening?" These were sophisticated people within the [United States Attorney's Office for the District of Columbia (USAO-DC)], within the Metropolitan Police Department, all of whom kept buying this defendant's story, hook-line-and-sinker, every step of the way, and not communicating with us about it.
MW: Are you still shocked when a hate crime occurs in the District? Or have you become somewhat desensitized to it?
FARRIS: I am shocked every time I hear it. And still upset every time I hear it. Because it boils down to a couple of things: I absolutely love Washington, D.C. It is my home. I grew up in Alexandria, I moved into the city as soon as I got into law school in 1992, I don't want to live anywhere else. It's the capital of the Free World. It's the city of shining hope to people all over the world. This homophobic violence doesn't fit with my image of my city. When I hear it – it doesn't matter how many times I hear it – I still get upset, and I still feel like it's a kick in the gut. Every time. I want it to stop. I keep thinking maybe we're making some progress and then I hear more stories.
MW: Does that make you determined to fight harder, or is it discouraging?
FARRIS: As long as I stay in Washington, there's no way that I can just say, "I'm going to get out of it," and walk away. It's my city. It's my home. As long as I feel scared, and as long as this is happening to people I know, in my neighborhood, I don't see myself being able to walk away from it. It's not in my nature to turn and run. It's in my nature to stay and fight. It's unlikely that things would ever get so bad that I would leave the city. I love this city. I would rather stay and make it better.
MW: What do you love about Washington?
FARRIS: I've traveled to lots of different cities all over the world and I've found very few cities that are as beautiful, as cosmopolitan, as sophisticated, as walkable, as "neighborhoody" as D.C. is. I also just happen to love politics. I love being in the heart of all of that.
MW: How would you rate the job of the Department of Justice/USAO-DC, versus the MPD?
FARRIS: I'm not enthusiastic about what I've seen out of the Department of Justice. I think the way they handled the Tony Hunter case, and some of the conversations I've had with some of the people who work there, have been very disappointing. But I also know that there are enough good and smart people who work there that if we keep working with them, things will get better. That's what we're trying to do.
It's hard for any professional to ever admit that maybe they made a mistake, and I don't think that anyone in the Department of Justice would say that they made any mistakes in the Tony Hunter case. I don't think they would admit that. But I also believe very strongly that no matter what they say, they were impacted by the community outcry over that case. That it started to hit them, that maybe the way they were approaching these cases wasn't 100 percent right.
MW: What would you say to those who argue that a crime is a crime, that heavier penalties for bias-related crimes are unnecessary?
FARRIS: I believe that when you commit a crime that's based on certain categories, what you're doing is you're trying to terrorize that entire category of people. So your crime isn't just against that individual. It's against everyone who's like that individual. So I'm going to go attack this gay person because they're gay. Well that's really attacking all the gay people in that area, because now they're all afraid, because they know that, "just because I'm gay." I believe it warrants the enhanced penalty because the crime is more than just a one-on-one attack. The victim is greater than just the individual who was hurt. The victim is an entire group of people. It sends a message.
While that's what I would like to see, I would be happy if we were just prosecuting them as regular crimes and getting the maximum penalty, but we're not even doing that. The discussion of whether we should be having hate-crimes enhancement or not is almost esoteric. It's almost irrelevant. I want us to really focus on nabbing the people who are committing these crimes, and putting their asses in jail. That's what I want.
MW: What pushed you to want to lead GLOV?
FARRIS: I'm not very good at seeing something that I think is really wrong and ignoring it. I also was just frustrated. Once we started talking to people, I didn't expect the resistance that we would get from city officials. I really honestly thought that everybody would be more willing to work with us. To me there's nothing controversial here. I still wouldn't understand why you wouldn't want to actively work to reduce these crimes. Why would you want to deny that they are increasing? Why would you want to abolish a highly affective, highly respected, award-winning community policing organization? I wasn't expecting that resistance.
MW: Why do you think that resistance exists? Possible homophobia within the force?
FARRIS: I don't believe that it's outright homophobia. I've met Chief Lanier. On a personal level she's the kind of person I would love to be friends with. I don't think that she's homophobic in the least, at all. I just think that they are a little uneducated on some of the issues and I also think that they're a little overwhelmed. I think that they just don't want to admit that there could be a serious problem here. If you admit that there're a serious problem here that means you have to divert resources to address that problem, you have to admit some sort of ownership over that problem, and then you have to commit to fixing it. That is an exhausting list of things. So it's easier to just say this is not really a problem.
The other reason why I got more and more involved – and angry – was because I started to realize that anytime you had a good suggestion, anytime you asked about a case, anytime you pointed out something that was wrong, you were immediately labeled an "activist," which to them was a negative word, and someone who didn't represent the community. I heard this all the time. "You're just an activist complaining. These people don't represent the community." So then they tried to divide us and again I wasn't expecting all of that because I felt like the initial premise wasn't really all that controversial.
Hate crimes against the LGBT community are increasing. Let's just all admit that, because it's obvious, and work together to solve it. I thought that would be a relatively noncontroversial position. So to have the first meeting be all about, "We don't know what you're talking about because the numbers are actually going down," to "There is no problem, you're just making up a problem," – to have that be the initial series of conversations was pretty infuriating to me.
What that forced me to do was to tackle their statistics and get in there and learn how they counted their crimes, where these statistics were coming from, what was counted, and what wasn't. Then we had to go and find the cases that were actually happening and go make sure that they were tracking them correctly. While we had Brett Parson that was what we were working on and we were making progress – until he left.
MW: Does GLOV face a lot of closed doors when trying to work with MPD and DOJ about LGBT-related cases?
FARRIS: Absolutely. You're constantly two steps forward, one step back. Constantly. It's a challenging environment. I believe it's time now for GLOV to stand on its own as an independent, fully functioning nonprofit organization with a full-time executive director and full-time staff who can really tackle these issues, work with other organizations, and work as a member of the National Coalition of Anti-Violence Programs (NCAVP) located in New York. Other cities have full-time organizations devoted to crimes in their communities and we should have the same. It's time.
MW: What would it take to get there?
FARRIS: Funding. It would take money. You have to be able to pay for an office, staff, an executive director. I think it's possible. I think the time is right. I haven't spoken to anyone within GLOV about this, but I believe that it's time.
I believe that the people who are in GLOV are all hardworking, passionate people – but they're all hardworking, passionate people who have full-time jobs where they're already working 60-plus hours a week. So the attention to give to these issues competes with real-world jobs. I would rather have a full-time staff. That's something that I will be slowly pushing for as a next step in the evolution of GLOV.
MW: In 2008, after a series of bars in Southeast were closed to make way for the Nationals baseball stadium, some members of the LGBT community held a forum to share memories about those establishments in the '70s and '80s. The panel described how gay people avoided violence back in those days by having members of the community volunteer to escort people to their cars after leaving the bars. Could the community revert to that?
FARRIS: We've often thought about that. We've tried to avoid it by issuing in our safety tips that you should never walk alone, that you should always walk with others, stay on the well-lit roads, and most importantly not walk alone impaired. That, to me, is the greatest common denominator. I'm not saying it's in every single case, but when I look at the profile of all the victims, the percentage who were under the influence is quite high.
Our hope was that by getting the safety tips out and by raising awareness we can avoid going backwards like that, having to say that we're going to have to have people walking you places and that type of a thing. I wouldn't count those types of strategies out right now, but I'm not prepared to advocate for them. I would like to think we can avoid having to go that route, but I've never been opposed to neighborhood watch type groups. We just don't have the manpower. I think that that's something that we should be looking at, taking back our own neighborhoods, having people standing on the corners of every block on certain nights, with cell phones ready to call the police at any moment, working with the police on that type of an approach. That's the type of thing that we should probably be looking at.
MW: What does GLOV currently need from the local LGBT community?
FARRIS: The problem is that it is an all-volunteer organization and the issues that it deals with are really complex and really time-consuming.
There are two areas where we need the most help. One is LGBT outreach. It's helping us getting into the various bars and other establishments where people hang out. Most of the people who volunteer for GLOV are Dupont Circle, Logan Circle people, and so by extension most of our work has been focused in that area. All of us are very committed to making this a citywide effort. We don't necessarily have the contacts, and we don't necessarily have the knowledge to be able to reach out all across the city. So one of the areas we need more help in is getting more people from the transgender community, more people from the African-American community, more people from the lesbian community involved in our work.
The second area we need help in is one of the most complicated. What we have going on in D.C. is no different than what we have going on in the entire country. And that is where I believe various minority groups, instead of sticking together and looking out for each other, for some reason become more antagonistic towards each other. I've always been concerned that there's an increasing splinter or division between the gay community, the sort of mostly white, male, gay community of Logan Circle/Dupont Circle, and African Americans. I believe that we need to work very, very hard to close that division. I've always felt that all minority groups should do their best to look out for each other. We all need to protect each other, because we are all minorities.
I'm one of those people who very much embraces the notion that the gay community is really the lesbian, gay, bisexual, transgender community. I believe very strongly that the "T" is a very strong part of our community. It always does sort of surprise me when I hear people resist that. When I hear people say, "Well that's not the same thing. They're different." To me it's all one community and I want us to all work together as one community.
If we don't all stand together, we're not going to be able to rise.
For more information about GLOV, a program of The Center, the metro area's LGBT community center, visit glovdc.org, or call The Center at 202-682-2245. There will be a town-hall meeting to remember victims and discuss recent violence on Thursday, Aug. 26, at The Center, 1318 U St. NW, at 7 p.m.