Fifteen years ago, Carol Leifer wrote an episode of Seinfeld in which the character Elaine Benes tries to get a gay man to "change teams." A year or so later, Leifer actually changed teams herself.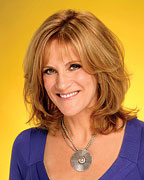 Carol Leifer
"See how far ahead of the curve [Seinfeld] was?" she laughs.
At the age of 40, Leifer, who had previously been married to a man, had her first encounter with a woman. "I say life threw me a surprise party," she explains. "I did not see this coming, but my lesbian fling became a thing. And here we are 14 years later with a 4-year-old child."
The relationship "rocked my world," says Leifer, who's now a vegan and an animal-rights advocate – passions she picked up from her partner Lori. And then there are the changes to the longtime comedian's routine. "We adopted our child and I sadly lost the most noted joke in my act up till that point, which was: 'I don't have any kids — well, least none that I know about."'
After writing for a few seasons of Seinfeld, Leifer went on to co-create Ellen DeGeneres's short-lived second sitcom, The Ellen Show. More recently, she's written for Rules of Engagement. She's waiting to hear back about a pilot for Showtime called Mouthpiece, starring Marlee Matlin and Sex and the City's Mario Cantone. She also appeared as herself on this season's Celebrity Apprentice. And having written for the Academy Awards ceremony for most of the past decade, Leifer just nabbed her first Emmy nomination.
"Jerry is one of my oldest and closest friends," says Leifer of Seinfeld. In fact, the character of Elaine was partially based on Seinfeld's real-life relationship with Leifer. "Jerry thought it'd be interesting [on the show] to have a woman friend whom he had dated previously, because the relationship is so much different than if you were friends and never dated," says Leifer. But that's about the extent of the similarity between her and Elaine. "I like to think that I'm a good dancer. [And] I don't push people halfway across the room and say, 'Get out!"' —Doug Rule
Carol Leifer appears with Poppy Champlin and Dana Goldberg in the standup show Queer Queens of Qomedy this Saturday, Aug. 21, at 7:30 p.m. The Birchmere, 3701 Mt. Vernon Ave., Alexandria. Tickets are $29.50. Call 703-549-7500 or visit birchmere.com.