Over-hyped, overlong and ultimately under-sexed, Sarah Ruhl's In the Next Room, or The Vibrator Play leaves much to be desired. Trying for the ever bigger bang for the theatergoing buck, Ruhl crams her Victorian comic-drama with numerous topics of universal female interest: motherhood, bereavement, the meaning of love, sexual orientation, issues of race, late-Victorian mores, the usual feminist angst and, of course, the clitoral orgasm.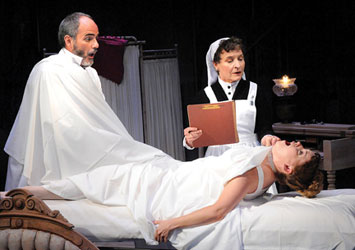 A little buzzed: Eric Hissom, Sarah Marshall, Kimberly Gilbert
(Photo by Stan Barouh)
But with so many hot-button issues on deck, Ruhl resorts to the kind of perfunctory dramatic architecture that allows for the easy insertion of predictable jokes and "Meaningful Moments" but not much else. Accessible? Certainly. Insightful, edgy, lasting? No chance.
Of course, the presence of sexual content guarantees a certain knee-jerk human interest, even if Ruhl's take on female sexuality is shrugworthy. And so there is some entertainment to be had in watching the play's raison d'être: the medicinal application of a vibrator to the nether regions of various frustrated Victorians. Still, even that gets a bit boring once it becomes apparent that it's going to be played mainly for laughs.
Ruhl introduces her vibrator through the domestic and professional lives of Dr. Givings (Eric Hissom) and his wife Katherine (Katie deBuys). A scientist-cum-practitioner, Givings sees his patients in his home "operating theater." As we soon discover, the doctor's specialty is the treatment of "hysteria" through the application of a newly invented machine that induces neurosis-releasing "paroxysms." Mrs. Givings, possessor of the quietest and least-demanding newborn in recorded history, nevertheless feels isolated and unsure of her motherhood and thus spends most of her time hovering in the drawing room next to her husband's office in the hope of socializing with the patients as they come and go. The cracks in the veneer of domestic harmony widen as Katherine grapples with the realization that she apparently doesn't have enough breast-milk for her infant. When a new patient, the highly-strung Mrs. Daldry (Kimberly Gilbert), arrives soon thereafter, Katherine looks to her for friendship and the whirlwind tour of female angst and identity begins.
By far the best performances here come from the joyously comic Gilbert, who positively revels in her repressed Mrs. Daldry, and Sarah Marshall as Annie, Dr. Givings's reticent but nevertheless highly expressive assistant. Both give ebullient color to their characterizations along with an insuppressible comic sensibility. Mrs. Daldry's remembrance of childhood joys lost to a premature marriage is provided haunting poignancy by Gilbert, while Marshall speaks volumes in facial expression alone. Though director Aaron Posner fails to eradicate the whiff of the sitcom elsewhere, he does allow Gilbert and Marshall the space to take both the pathos and humor of their women to a far higher level.
IN THE NEXT ROOM, OR THE VIBRATOR PLAY


To Oct. 3
Woolly Mammoth
641 D St. NW
202-393-3939
woollymammoth.net
As the feisty but thwarted Mrs. Givings, the charismatic deBuys creates a convincing unsettledness which is only diluted when she resorts to the affectations of the TV comic-heroine. Hissom gives a reasonably convincing Dr. Givings with some excellent comic timing though his character's eventual catharsis is too contrived by Ruhl to be credible. As the wet nurse Elizabeth, Jessica Frances Dukes brings as much as she can to a role that is as timidly predictable as anything churned out by the major networks. Surely if Ruhl has the courage to write in an earth-shattering orgasm, she has the guts to break the current unwritten code of the white playwright that all African-American characters be all-wise, all-knowing and in a permanent state of virtue.
Besides, is writing about climaxing women (and a man) really that courageous if there is barely an insight attached? By the end of The Vibrator Play we are meant to believe that Katherine and Dr. Givings can, with a bit of vibrator-induced frustration and the mere suggestion of an unorthodox romp, ignite a passionate marital love — but how on earth did they get there? Each has been presented in a perpetual state of reaction — we have learned precious little of their inner lives, let alone their sexuality. Dampen the raucous howling and all we're left with is the theatrical equivalent of the proverbial blue balls.