When unhindered by such things as a degree in history or political science or more than passing knowledge of the works of, well, any of those folks on the History Channel identified as being noted authorities on the Cold War, one can make statements like, "That Cold War was a really funny thing."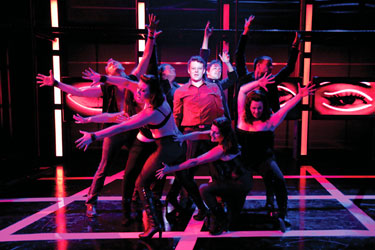 Jeremy Kushnier with the Ensemble
(Photo by Scott Suchman)
We feared the Russians – or, more accurately, all communists everywhere – much like we fear terrorists now, but our Russian spies were sexy bombshells or devilishly clever trained assassins who sported a sense of danger draped about them like a rich black sable.
We worried then as we do know about the possibility of nuclear conflict, but, for those whose Cold War memories are largely occupied by President Ronald Reagan, MTV taught us that anything bad could be immediately transformed with the right choreography and, ideally, the arrival of ZZ Top.
And, as have so many historic periods and events that were actually quite horrific when viewed in the sharp light of reality, the Cold War gave us a new way to tell an old story. The star-crossed romance.
Enter Chess, a musical that does its very best to make you believe that there is nothing sexier than a board game. Signature Theatre has decided to kick the fall season off with the first major production of the show in nearly 20 years and, while some elements feel just a bit undone, it's a bold choice that delivers genuine rewards.
Anatoly Sergievsky (Euan Morton) and Freddie Trumper (Jeremy Kushnier) are chess rock stars. It's 1986 and the Cold War has transformed this World Championship match-up between a Russian and an American into nothing less than a spectacle. Journalists mob them at their hotels. Freddie's agent is making a killing on marketing and promotional deals for his bad boy client. The championship has even been split – in an unprecedented move – into a two-city event. First Bangkok, then Budapest.
In addition to his agent, Freddie is joined in Bangkok by his second, Florence (Jill Paice). The role of the second in competitive chess is to act as a player's representative, to ensure things are done above board and by the rules. While it's a role Florence excels in, the greater part of her time is spent trying to keep Freddie focused and on task.
It's tempting to shorthand the rest of the musical here. Fast cuts about romance blossoming. Tempers flaring. Futures held in the balance.
But here's the thing about Chess: If you've not seen the musical before it may very well surprise you.
Take, for example, "One Night in Bangkok," a musical-theater song that a good number of people don't know is a musical-theater song. It's from Chess.
And take, as a separate but oh so very related example, the fact that "One Night in Bangkok," and all the other songs in Chess, were written by Tim Rice and a couple of musicians by the names Björn Ulvaeus and Benny Andersson.
That would be half of the band ABBA.
If you're a fan of ABBA (perhaps even a fan still nursing a Mamma Mia-flavored bad taste in your mouth) the sound is unmistakable. Think carefully coordinated harmonies and big, showy instrumentals. Ulvaeus and Andersson wrote pop music with the sensibilities of epic poetry and it's that kind of hand that makes Chess's songbook so vibrantly textured.
They were playing with world music before the phrase "world music" was being abused by hipsters in skinny jeans, giving us songs like "Bangkok" and "Where I Want to Be" and the shockingly moving and patriotic "Anthem." They were carefully lacing complicated patterns together for the quartet piece "A Model of Decorum and Tranquility" and then punching audiences in the gut with driving bits like "So You Got What You Want" and ballads like "Someone Else's Story."
To make certain music lost nothing in the translation, director Eric Schaeffer, whose name is also sporting a director credit with the Broadway hit Million Dollar Quartet, has assembled a fantastic cast and creative team.
Chess is, without question, Signature's extended Eighties night. From Kathleen Geldard's costumes (think The Lost Boys meets Janet Jackson's Rhythm Nation) to Daniel Conway's minimal-done-right set to Karma Camp's music video-tinged choreography, this is one of those shows that, stylistically, succeeds in presenting a truly unified and collaborative vision.
In terms of the cast, Morton is particularly outstanding, with a perfect sense for the scale of Signature's MAX Theatre. His performance of "Anthem" is brilliant and engaging while his duet work with Paice showcases the pair's arresting chemistry. On her own Paice dazzles, bringing Florence to life with a voice so intriguing, with such a beautiful yet delicate power, that it pleasantly haunts well after the show.
CHESS




To Sept. 26
Signature Theatre
4200 Campbell Ave.
Arlington
$55-$81
703-820-9771
signature-theatre.org
Kushnier is a slightly more complicated consideration. While his Freddie is perfect in his macho swagger and larger-than-life showmanship, there is a habit of giving the character a voice as large as his ego. Kushnier sometimes overwhelms, sacrificing the narrative sense and color of the show's songs for volume.
Chess also suffers a bit from an ensemble that is, at times, uneven. When the group is on they are absolutely striking, but some involved do not seem to be entirely up to the challenge that has been presented and they become an unfortunate distraction.
Signature has taken a gamble by presenting Chess, a musical that has never been professionally produced in the Washington area. More musically complicated than what has come to be thought of as a "rock musical" and bearing all of the regalia of the time when it was written, the project could have landed onstage like a Pet Rock. Fortunately, that's not the case. Chess is bright, engaging and full of queens (and kings and pawns and songs) that will, in fact, excite you.'