Trans activist Jeri Hughes is lauding the efforts of the D.C. Office of Human Rights this week for its efforts to have a transgender female inmate moved from a male halfway house to one for women.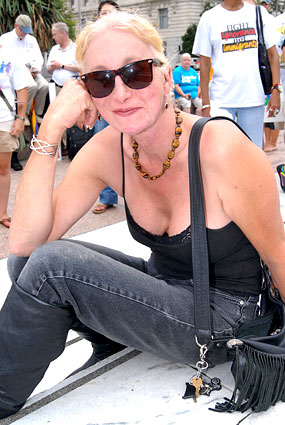 Jeri Hughes
(Photo by Ward Morrison )
"We got a transgender woman in the female halfway house, finally," Hughes says. "That hasn't happened before."
While Hughes would not disclose the person's name, she says the OHR got involved after the person complained about problems she encountered at the male facility.
Speaking to Metro Weekly on Monday, Sept. 27, Gustavo F. Velasquez, director of the Office of Human Rights, said the complaint prompted his office to write a letter to the Department of Corrections asking for some changes in the way transgender inmates are treated once they are ready to leave for a halfway home.
"We've been dealing for the last four years for corrections on multiple things," Velasquez says. "One has been the lack of policy on [DOC's] part to treat transgender inmates with dignity and respect."
Velasquez continued by saying that a few years ago the OHR worked with the DOC on a policy that requires the DOC to meet with transgender inmates and assess their needs prior to placing them in corrections facilities. But the policy was not applied to transgender inmates being moved to halfway homes – until now.
In a Sept. 7 letter to the DOC, OHR requested the following guidelines for transgender inmates: evaluation of inmates who identify as transgender for appropriate halfway house assignment; option to wear unisex clothing once placed in that halfway home; access to health care and efforts to resolve issues with help from the OHR.
"As a result," says Velasquez, "the outcome has been very positive."
Velasquez says his office hopes this latest case is evidence of an "ongoing change in policy" to address a long list of concerns.
"This is one instance where now they are changing their policies to go beyond the correctional facility and address how people have to be housed outside of the jail. There will be more changes happening. What is important of this instance to stress is that it's important for the community to come forward … and bring issues to our attention. That's the only way we can hold [DOC] accountable."