With so many playwrights cramming a circus's worth of plot and issues into their pages, it can seem they are writing for an audience with the attention span of a cat, albeit a politically correct one. For those of us still capable of sitting through a mere one- or two-issue play, these can be saturating times. Of course, it wasn't always such an all-or-nothing prospect.
And luckily The American Century Theater has made it their business to present thoughtfully selected plays from the 20th century, offering a chance to experience contemporary theater before the dawn of the age of self-actualization and all the psycho-babble that goes with it. TACT takes us back to the kind of pared-down – yet dramatically rich – theater we see so little of today. It's so old it's new.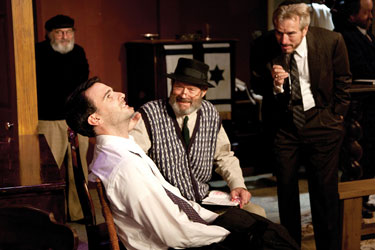 Take, for example, this season's opener: Paddy Chayefsky's The Tenth Man. A small, joyously irreverent urban-Jewish folktale, Chayefsky's play captures less than a handful of issues and yet is provocative, at times poignant, and certainly memorable. And though the revelations are tame by today's standards, Chayefsky's voice remains potent and thought-provoking, a tongue-in-cheek take on human nature suspended only enough to reveal a deep empathy with lost souls.
That he can do so much in a one-room play without the usual back-filling with personal tragedies speaks volumes to his abilities. We know there has been crisis in these lives, but we don't have to "come to Jesus" over it. For Chayefsky, it's more about "So, what now?"
Striving for a witty, no-nonsense production, director William Aitken works hard to capture Chayefsky's unapologetic style. If he is somewhat thwarted by the low-budget sets and an ensemble of varying strengths, it is nothing we can't forgive. Aitken strikes a palpable mood here, one that fits admirably with the rather particular world in which Chayefsky sets his story.
For this is, without doubt, a Jewish story, filled to the brim with comment, satirical and otherwise, on the kind of Judaism that comes with grandparents reeking of mothballs. But although someone raised in the faith might get more of the references, Chayefsky gives the characters and their story a kind of New York accessibility: Old men are old men wherever they congregate, young people search for themselves through lovers.
At once sad and ridiculous, the premise itself is instantly engaging. A distraught grandfather brings his mentally ill granddaughter to the local temple to save her from committal to an insane asylum. Caught in the dilemma, the temple elders dither and debate. As they finally settle on a course they think is true to their beliefs, a doubting stranger arrives and in one way or another everyone's notions are tested.
This is an intimate ensemble piece, by turns fast-paced, comical and intense. To make it work, the players must find chemistry and rhythm. Capturing this best, Ron Sarro as Schlissel and Mick Tinder as Zitorsky, set an essential tone. Though Schlissel provides much of the play's comedy, he is also the temple skeptic and Sarro manages this balance well without ever over-playing.
And although Tinder at first seemed as if he might be at odds with his character – almost to the point of caricature – he soon channeled the amusingly whiny Zitorsky with memorable charm. As the temple's purveyor of common sense, Stephen Rourke delivers a believable Alper, but a slightly heavy hand at times works against his balance with the other players. In a ridiculous beard, but nevertheless essentially convincing, Craig Miller gives his elderly and rather forlorn Hirschman, haunting the temple in an enduring state of regret, understated pathos and integrity.
THE TENTH MAN




To Oct. 16
American Century Theater
Gunston Theatre Two
2700 S. Lang St.
Arlington
$30-$35
703-998-4555
americancentury.org
At the core of the temple's conundrum are the young people; the disturbed Evelyn and then, later, the terminally unhappy Arthur. Both are challenging roles. Evelyn, because she must move between madness and lucidity without becoming either a joke or a disproportionate downer, and Arthur because he is the one character who must explain himself without ever actually being asked.
As Evelyn, Kari Ginsburg exudes the complicated sweetness of this disturbed girl, moving beyond the usual madwoman clichés with color and dimension. Although she occasionally overplays – and one can see that Ginsburg would be equally at home on a much bigger stage – she far more often shows skillful restraint. Somewhat less at ease is Steven Quartell in the role of Arthur. Quartell is a strong presence and he works harder than he needs to in describing his character. A greater subtlety would move Quartell into better company. In a small role, Matthew Meixler, though at times a tad out of synch with himself, makes a strong, almost cinematic, impression as the young rabbi.
Carefully crafted yet entertaining, witty but still tender, The Tenth Man is the kind of drama that, in its small way, re-calibrates the medium.