Despite significant disappointment – or even anger – from many LGBT advocates and activists about the lack of progress toward LGBT equality achieved in the 111th Congress, the legislative landscape for LGBT equality could look far bleaker in the new year.
When the 112th Congress opens in January 2011, the Employment Non-Discrimination Act (ENDA) – which was unable to get any movement thus far in the 111th Congress – faces the potential loss of several of its significant boosters in the Senate, including Sens. Russ Feingold (D-Wisc.) and Patty Murray (D-Wash.).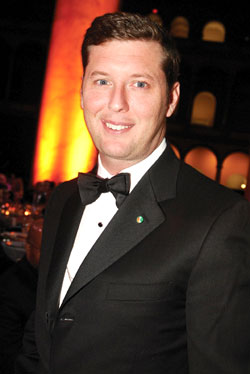 Rep. Patrick Murphy
More significantly and increasingly likely, ENDA and all other LGBT priorities face the strong likelihood of a House speaker named John Boehner (R-Ohio). In vigorously opposing the Matthew Shepard and James Byrd Jr. Hate Crimes Prevention Act in October 2009, Boehner said, "The Democrats' 'thought crimes' legislation … places a higher value on some lives than others."
Boehner voted against that bill, voted against the amendment aimed at ending "Don't Ask, Don't Tell" in May of this year, opposes ENDA, supports the Defense of Marriage Act (DOMA) and likely will become the next speaker should Republicans retake the majority – a chance that Nate Silver at The New York Times's FiveThirtyEight blog placed at 80 percent as of Oct. 26.
IN THE UPPER CHAMBER, meanwhile, there are seven Senate races within five points – all held by Democrats currently – on which Silver shows the control of the Senate lies. These races paint perhaps one of the clearest pictures of the types of differences that could be seen in the next Congress.
The races are in Colorado, Illinois, Nevada, Pennsylvania, Washington, West Virginia and Wisconsin. Silver's model predicts that the chance of the Democrats losing these seats ranges from 88 percent in Wisconsin to 15 percent in Washington. Only in two of the eight – Washington and West Virginia – are the Democrats favored. With California's Sen. Barbara Boxer (D) recently increasing her lead against Carly Fiorina beyond 5 points, the chances of a Republican takeover in the Senate are very unlikely – with Silver placing them at only 14 percent as of Oct. 26.
Assuming an unlikely sweep for the Democrats, Sens. Michael Bennet (Colo.), Harry Reid (Nev.), Patty Murray (Wash.) and Russ Feingold (Wisc.) would return to D.C. in January, joined by Alex Giannoulias (Ill.), Joe Sestak (Pa.) and Joe Manchin (W.Va.). Should the Republicans sweep, the eight seats would be held by Ken Buck (Colo.), Mark Kirk (Ill.), Sharon Angle (Nev.), Pat Toomey (Pa.), Dino Rossi (Wash.), John Raese (W.Va.) and Ron Johnson (Wisc.).
Of the Republicans, even GOProud only has endorsed Fiorina. Log Cabin Republicans has not endorsed any Senate candidate. HRC, meanwhile, endorsed all of the Democrats listed here except Manchin, where the group stayed out of the race altogether. Stonewall Democrats endorsed Boxer, Giannoulias, Reid and Sestak.
In a debate against Bennet, Buck – when asked by Meet the Press host David Gregory if he believed being gay was a choice – said simply, "I do." Gregory asked, "Based on what?"
"You can choose who your partner is," Buck – who opposes DADT repeal – replied, adding, "Birth has an influence over it, like alcoholism and some other things. But I think that, basically, you have a choice."
Bennet, who supports repeal of DADT, said those views were "outside the mainstream."
Kirk, who currently serves in the House, voted in May against the amendment offered by Rep. Patrick Murphy (D-Pa.) aimed at ending the "Don't Ask, Don't Tell" policy. The next day, HRC endorsed his Senate race opponent, Giannoulias.
Over in Pennsylvania, Sestak was a strong, loud and early supporter of DADT repeal efforts. Toomey, meanwhile, has said he would "welcome" a policy change if military leaders support it. The two differ on legislation already signed into law, however, with Toomey railing against the Matthew Shepard and James Byrd Jr. Hate Crimes Prevention Act, signed into law a year ago.
Toomey told Pittsburgh's KDKA, "I think it's a bad idea for government to legislate on the basis of what they think people are thinking, what's in a person's mind or heart when they create a crime."
In Nevada, Angle has told the "Government is not God" political action committee that she opposes adoption by gays and lesbians, according to Politico. Reid – in part because of his role as the Senate majority leader – has been the subject of repeated protests from Get Equal and has received less than enthusiastic support from many activist corners. He does, nonetheless, support most of the goals advanced by most LGBT organizations.
THE HOUSE RACES are no less dramatic, with Silver's analysis showing, as of Oct. 26, that 26 seats are likely to turn from Democrat to Republican and only two are likely to turn from Republican to Democratic control. Moreover, Silver's analysis points to Republicans picking up 52 seats of the 435 up for grabs on Nov. 2.
Three of the most heavily watched races by the LGBT community include Murphy's rematch against former Rep. Mike Fitzpatrick (R-Pa.). Despite Murphy being the leader for ending DADT in the House and despite LCR being the organization bringing the lawsuit aimed at ending DADT in the courts, LCR is backing Fitzpatrick – which set off the generally calm Jonathan Capehart, who sits on the editorial board at The Washington Post.
In his blog, he wrote of the endorsement, "But what Log Cabin has done in this episode with don't ask don't tell is the height of hypocrisy. If the group wants to know why many gay folks view it with suspicion this is a prime example why."
LCR, meanwhile, told Capehart, "While we may not agree on every issue with a candidate we endorse, we have a continued dialogue with these Members in our efforts to secure further Republican support for legislation that benefits gay and lesbian Americans."
Despite LCR's support for Fitzpatrick, a group of left-leaning LGBT advocates ranging from Get Equal's Robin McGehee to HRC's Joe Solmonese prepared a YouTube video urging LGBT support for Murphy.
Further east, GOProud is taking aim at out Rep. Barney Frank (D-Mass.), who is in his closest election in years against Sean Bielat. GOProud ran an ad spoofing Frank, House Speaker Nancy Pelosi (D-Calif.) and Boxer as being similar to the Bravo TV show, The Real Housewives of D.C. Specifically, Frank is referred to as "catty."
Bielat, however, has raised more questions than chuckles with a parallel he recently drew to DADT. The candidate told the Boston Herald that he saw no one protesting the height restrictions for military service.
"Where are the people standing in front of the White House, the short guys standing in front of the White House?" Bielat said. "You don't see it."
In September, GOProud Executive Director Jimmy LaSalvia said in a statement poking both at ENDA and Frank, "We believe strongly that the best thing we can do to protect the jobs of gay workers isn't to pass new federal laws, but instead to fire one of the men responsible for the financial meltdown that cost millions of Americans their jobs."
Up the coast from Frank and Bielat in Rhode Island, out Providence Mayor David Cicilline (D) faces only a nominal challenge from Republican John Loughlin II, but the race is still capturing attention because Cicilline appears poised to be the only new out member of Congress in 2011. Ed Potosnak (D-N.J.) and Steve Pougnet (D-Calif.) are the other two out gay congressional candidates, but neither is expected to win his race and both are running against incumbent Republicans in a year in which almost all the close races place Democrats in uphill battles.
Although she is almost certain to win re-election on Nov. 2, it is Pelosi who – despite succeeding in advancing DADT repeal, including LGBT provisions in health care reform and getting a committee vote in 2009 on the Domestic Partnership Benefits & Obligations Act – is likely to pay the highest price on Election Day should she lose the speaker's gavel.
As out Rep. Tammy Baldwin (D-Wisc.) told a Victory Fund crowd at an event honoring Pelosi, "While she was handed a gavel, she earned it – no one's ever handed a gavel in politics."