Mummenschanz is now in its 38th year.
"It sounds so important when we number the years," says the European performance art company's Floriana Frassetto, "but trust me — even though we have white hair, the energy and the love and the passion is even more there."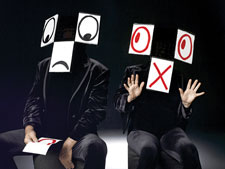 Mummenschanz
Mummenschanz formed years before its contemporaries MOMIX or Cirque du Soleil. "Mummenschanz is different. It's a class of its own," says Frassetto, one of the pantomime-based troupe's founders. "We have no music, we have no words. It's a bit like a silent cartoon. But not really silent, because there's a lot of interactivity with the audience."
Born in Norfolk, Va., and raised in Rome, Frassetto teamed up with the late Andres Bossard and Bernie Schürch to form the group in 1972. In addition to collaborations with artists in other media, from opera to television, the Swiss-based ensemble continues to tour the world, most recently as far away as Turkey and China. "The fact that we have no music," she says, "it gives us a different rhythm every night. It keeps it young and alive."
This weekend at McLean's Alden Theatre, the troupe will perform a retrospective of its sketches, including classics such as one in which a balloon is floated back and forth into the audience, and a dance piece with streaming toilet paper.
Part of its first U.S. tour in seven years, Frassetto can't believe how fast time flies. "I'm sure when we walk onstage, we will feel like it was yesterday."
Mummenschanz performs Saturday, Oct. 30, and Sunday, Oct. 31, at 3 p.m., at the Alden Theatre, 1234 Ingleside Ave., Mclean, Va. Tickets are $40. Call 703-790-0123 or visit aldentheatre.org.