"He's sort of that guy who everybody knows is gay, but nobody talks about it," says Mark Chalfant. Chalfant plays Skip "Skippy" Skipperton in Washington Improv Theater's "Shock and Awesome," part of an evening dubbed Moderate-ly Funny. Skipperton wants to enlist in the military, but there's a certain policy still standing in his way.
And that's just one of many tie-ins to current political events to come in two WIT shows this Friday, Oct. 29, in advance of Jon Stewart's Million Moderate March/Rally to Restore Sanity. "We basically tried to squeeze in all of the funniest, most radical improv comedy to make a night that will serve as a really awesome kick-off," says Chalfant, WIT's artistic and executive director. Comparable to New York's Upright Citizens Brigade and Chicago's Second City, WIT shows revolve around plot developments driven entirely by the audience.
"[Improv] is not about being wacky or zany," says Chalfant, "it's about how observant you can be in the moment, about how well you listen."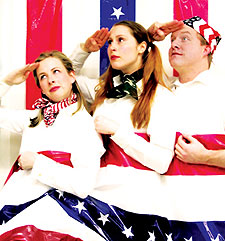 WIT
(Courtesy Washington Improv Theater)
In his past life, Chalfant, who grew up in Laurel, Md., was an employee at the International Monetary Fund. As it happens, his altered career path is as improvised — and ironic — as they come. "Where I went to college," he explains, "there was an improv group that would perform during lunchtime in one of the dining halls, and I hated them. There were always distracting me. I just wanted to study and eat my lunch."
To this day he avoids college lunchrooms.
"We try to keep our performances to audiences that aren't quite so captive," Chalfant laughs.
WIT's Moderate-ly Funny is Friday, Oct. 29, at 8 p.m. and 10 p.m. ("Shock and Awesome" is part of the 10 p.m. show.) At the Dome Theater at 'Artisphere, 1101 Wilson Blvd., Arlington. Tickets are $20 for each show, or $30 for both. Call 202-204-7770 or visit washingtonimprovtheater.com.