Babak Movahedi, the owner of the Washington, D.C. gay bar Mova Lounge, filed for Chapter 11 bankruptcy protection today for the business that operates the bar – though he said the action is a "temporary measure" and has no plans of closing.
In a Chapter 11 bankruptcy filing, the debtor usually proposes a plan of reorganization to keep its business alive and pay creditors over time. That, according to Movahedi, is the plan behind today's filing.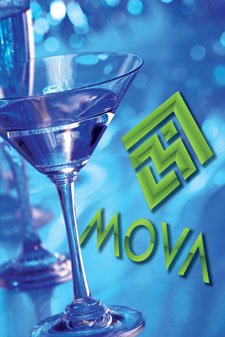 Mova, known as Halo Lounge until early this year, is operated by Logan Circle Spectrum LLC, which is the company that filed for bankruptcy protection.
Movahedi, reached by Metro Weekly after the filing, said, "This is a reorganization like any other corporation. We are declaring bankruptcy and we are reorganizing." In a follow-up statement sent via e-mail to Metro Weekly, he erased any doubt about his plans, writing, "We are NOT closing[.]"
According to the filing, Logan Circle Spectrum owes more than $874,000 currently and has less than $75,000 in assets.
In the follow-up statement, Movahedi wrote, "The majority of our debt is long term and to PNC, the lender that provided financing to purchase the business. Our short term obligations are no more than $25,000 which is minimal for a corporation of our size."
Today's filing lists more than $550,000 owed to PNC Bank – $91,000 of which is a Small Business Administration loan. The filing also lists another $130,000 owed to a person referred to as a family member of Movahedi and $79,000 apparently owed to Movahedi himself.
Nearly half of the assets include a $36,000 security deposit on its District property, which is located at 1435 P St. NW. The filing notes, however, that more than twice the security deposit – $77,745 – is owed to the landlord, Harlet Enterprises Inc., which is run by David Lett.
The outstanding money owed to Harlet Enterprises was the subject of a lawsuit filed in D.C. Superior Court's Landlord and Tenant Division earlier this year. A hearing on that matter had been set for today, Wednesday, Oct. 20.
According to the bankruptcy filing, Logan Circle Spectrum's business income declined dramatically this year, reporting that the income in both 2008 and 2009 was more than $2.1 million. This year, however, the filing states that – as of today – the business income is only $933,283.73.
Movahedi refused to comment on the income disparity.
"We're reorganizing, just like GM reorganized," he said. "That's all there is to it."
There is an affiliated Mova bar in Miami's South Beach as well, although Movahedi told Metro Weekly that only the District location is involved in today's filing.
Jansi LLC, publisher of Metro Weekly, is a creditor of Logan Circle Spectrum.