Organizers of the 24th annual High Heel Race, set for Tuesday, Oct. 26, are asking for three things: One, they need volunteers. Two, they want spectators to keep their chairs at home. And three, they'd appreciate it if those same spectators would refrain from throwing things at the race participants.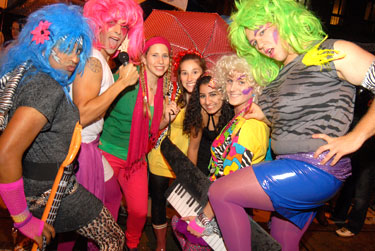 Participants of the High Heel Race
(Photo by Ward Morrison)
Dave Perruzza, manager of JR.'s – the finish line of the race – says there is room for a total of 150 volunteers to help out during the "fun Halloween community event," which fills 17th Street NW between P and R Streets, beginning at 7:30 p.m.
"Volunteering is the best way to see the race," he says. "You get a free volunteer T-shirt, you don't have to deal with the crowds, and you can take pictures."
While the race itself is over in a matter of seconds, planning the annual event takes weeks, Perruzza says, adding that he's been organizing it for 12 years.
"I don't stress out anymore because whether we organize it or not, the race is going to happen on the Tuesday before Halloween," he says. "It's at a point now where people show up. Even if I don't advertise it or do anything, people just know the Tuesday before Halloween you go to 17th Street. I just do my best to keep it a safe event.
"Somebody summed it up on the Facebook page. It used to be an event for gay people. Now there's kids on the front sidelines."
To compete, runners must register at Cobalt. The winner of the race will be awarded with a $50 bar tab from JR.'s.
To volunteer for the High Heel Race, e-mail heelvolunteer@aol.com. JR.'s is located at 1519 17th St. NW. Cobalt is at 1639 R St. NW.