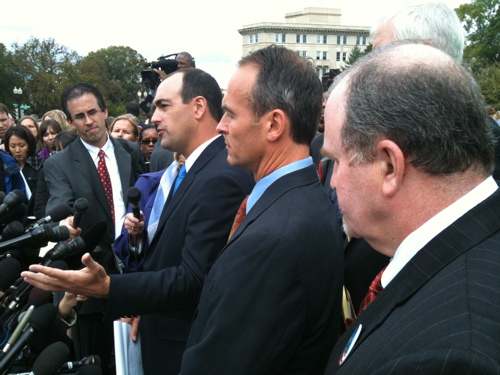 Photo: Attorney Sean Summers speaks to reporters outside the U.S. Supreme Court following oral arguments in Snyder v. Phelps on Wednesday. Al Snyder, the father of a soldier killed in Iraq, sued Fred Phelps for the distress caused when Phelps protested at his son's funeral. (Photo by Chris Geidner.)
The U.S. Supreme Court now must consider how to rule in Snyder v. Phelps, which was argued before the high court this morning.
As I wrote in the story about the arguments — "'You're Going to Hell' — But First, the Supreme Court" — the case raises complex issues of First Amendment law:
The case, which centers around the religious group behind the godhatesfags.com website and who also protested outside of Matthew Shepard's funeral in 1998, presents the justices with a question about whether the First Amendment protection of, as Justice Sonia Sotomayor put it, public commentary about public figures — which the court previously held is protected — also applies to public commentary about private figures.
The case also, though, is about a son who died at war, and that impression was indelible throughout the day:
As Al Snyder left the court with Summers, he spoke briefly with Metro Weekly about the LGBT community's familiarity with Fred and Margie Phelps and the WBC's protests. He said he's thankful for the kindness shown to him by the LGBT community: "They've been great supporters."
On the way to their cars, Snyder, Summers and Kansas Attorney General Steve Six (D) were greeted on the grounds of the U.S. Capitol by U.S. Capitol Police Officer Keith Atkins.
Atkins, in a brief and informal ceremony, presented Snyder with a flag dedicated to the "countless sacrifices made by Lance Corporal [Matthew] Snyder … a brave Marine and great American." Atkins added, as he presented the flag to Snyder, "I put 'Semper Fi' on there, because I know he would want that."
Here are some more photographs from today.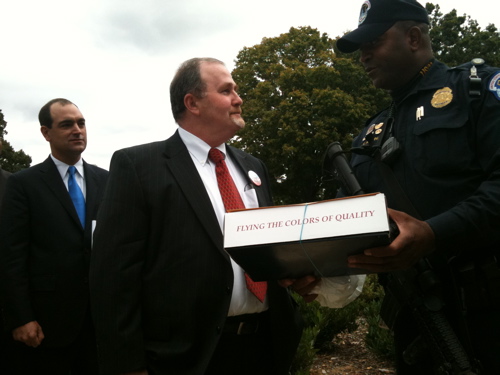 Photo: U.S. Capitol Police Officer Keith Atkins gives Al Snyder a flag flown over the U.S. House of Representatives earlier Wednesday in honor of Atkins's son, Matthew. (Photo by Chris Geidner.)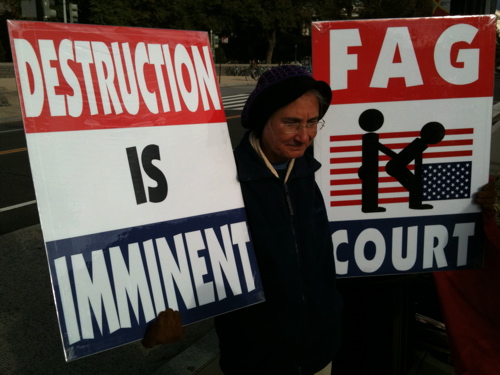 Photo: A member of the Phelps family protests outside the U.S. Supreme Court prior to the oral arguments in Snyder v. Phelps on Wednesday. (Photo by Chris Geidner.)