Let Me In is not your average tween's vampire movie. There are no lingering shots of over-primped adolescents with rippling abs. No angst-filled scenes of a girl caught between two hormone-fueled boys. And it's certainly not HBO's interpretation, where sex, humor, and outrageous soap opera twists make vampires seem like a little slice of southern charm. Let Me In is pure darkness.
Perhaps this is because the source material is not from the states, and not influenced by Hollywood's vamp-glam obsession. The 2004 novel by John Ajvide Lindqvist was wonderfully adapted in 2008 by Swedish director Tomas Alfredson, and the resulting Let the Right One In was one of my picks for best film of the year. When an American remake was announced, loyalists to the original were concerned. Let the Right One In was balls-to-the-wall creepy. What were the odds that the American version could retain the same tone, the same gore, and the same reliance on child actors to bring the story to life? Fortunately Cloverfield director Matt Reeves succeeds.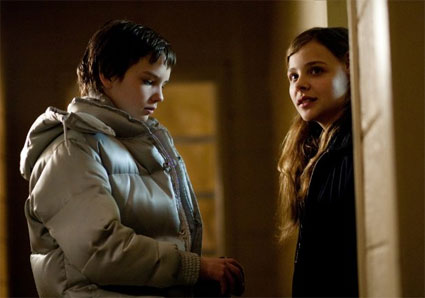 'Let Me In'
In Los Alamos, New Mexico, in the early 1980s, Owen (Kodi Smit-McPhee) is an easy target — he's slight, struggling with his parents' divorce, and is equally fascinated and terrified of his school's bullies. His life changes when a girl moves in next door with strange habits, like walking barefoot in the middle of winter. Owen ignores her odd statement – a warning, really – that they can't be friends and soon finds out that his new neighbor Abby (Chloe Moretz) isn't your typical kid.
Reeves, who also adapted the screenplay, doesn't create a plot and story that pulls you along toward a conclusion as much as he envelopes you in a world. The slow, methodical evolution of the relationship between the two 12-year olds (well, at least one of them is really 12) isn't marked by milestones and forward progression. It's more like a slowly creeping vine that worms its way into the cracks of their lives and takes root.
Without any big distractions – you know, good looks, toned-bodies, and shimmering special effects – the film relies fully on the shoulders of its two kid stars. And they shine. They shine red, 'cause they're covered in blood, but they shine nevertheless. Fortunately both have experience in disturbing movies to prepare them for Let Me In. Smit-McPhee earned his stripes in the post-apocalyptic drama The Road last year, and Moretz was killer in the uber-violent Kick-Ass.
Smit-McPhee does a fantastic job as the bullied Owen, creating a sense of inner mental strength even when he knows he's physically inferior. Opposite his primary tormentor (a fantastic Dylan Minnette), he's meek, but when stabbing a tree with a small knife, he's terrifyingly filled with rage. Moretz is absolutely mesmerizing to watch. She's 12 at times, but in the blink of an eye she morphs into a women who has wisdom beyond her years. It's almost a shame that special effects are required to reveal her vampire side, because it masks a strong performance that could likely achieve the same result.
The children are so powerful it's almost easy to overlook the adult actors, but two stand out. Richard Jenkins is superb as a man utterly beholden to this Abby. And as the police officer whose dogged pursuit of the truth has disastrous effects, Elias Koteas plays the part to be both righteous yet unwittingly sinister to the children.
For all of Reeves' success at creating a world haunted by the supernatural, it's best when there's no attempt to wallow in special effects. Abby's movements as a vampire are superhuman, yes, but too artificial against the otherwise mundane backdrop. It's too much a page from his Cloverfield past that doesn't fit into this new world order.
LET ME IN




Starring Kodi Smit-McPhee, Chloe Moretz
Rated R
115 Minutes
Area Theaters
Like the original, take out the vampire and you have a touching story of discovering self-esteem; keep in the blood sucking and you have a creepy, supernatural thriller that works on both the mortal and immortal plane. The themes in the film – bullying, religion, evil, and love – remain as strong in the remake as they are in the original. And whether the film ends on a happy note or tragic one is left entirely up for debate.
In a world overrun with vampires, Let Me In is a welcome addition to the genre and one that shouldn't be overlooked for something flashier. In fact, the only way it could be more aligned with the cultural zeitgeist would be if it were titled "The Girl Who Wanted to Come In," so let's celebrate that Hollywood didn't get that bloodthirsty.