"Can two divorced men share an apartment, without driving each other crazy?"
That was the question left hanging at the start of every episode of the 1970s television series The Odd Couple. If the show, starring Tony Randall and Jack Klugman, is your only frame of reference for the Neil Simon play there are a few bits that will both comfort and reassure.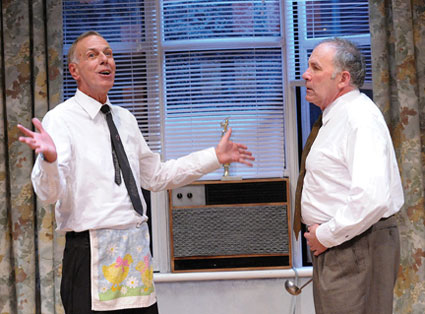 Dueling divorcés: Shiffman and Foucheaux
(Photo by Stan Barouh)
First, unlike most other things that have made their way from stage to the big screen to the small screen (acknowledging that The Odd Couple successfully made both journeys), TV's Odd Couple held remarkably close to its roots.
Those venturing to Theater J to see director Jerry Whiddon's new production of Simon's three-act comedy will have the opportunity to spend some time with Oscar (Rick Foucheux) and Felix (J. Fred Shiffman), the Pigeon sisters from upstairs (Lise Bruneau and Helen Pafumi), and all the guys from the weekly poker game — including Murray the cop (Delaney Williams) and the man-without-empathy, Speed (Marcus Kyd).
What audiences might be surprised to find in the stage version, however, is that the relationship between Felix and Oscar, which is the heart of Simon's play, draws out into more than a simple roommate agreement. Make no mistake here, this is still more a buddy show than a romantic comedy. But, with The Odd Couple, Simon was exploring issues far more complex and ultimately satisfying than the weekly personality clash comedy of the television series.
THE ODD COUPLE




To Nov. 28
Theater J
1529 16th St. NW
$35-$60
202-777-3210
theaterj.org
The play is about relationships and marriage and the immense pressures felt when the person you love more than anyone else in the world is also the only person capable of pushing you to the point of committing murder. Simon was not only thinking about what it was that brought a family together, but how to deal with things when it was torn apart.
While the sting hasn't quite faded yet, Oscar and his wife have been divorced for some time when the play starts — long enough for the New York apartment that once housed a growing family to become something closer to a post-kegger frat house. The floor is littered with discarded newspapers and food wrappers, dirt is the defining color palate and sandwiches in the now dead refrigerator can only be described by the color they have become and not their contents.
Into this squalor arrives Felix, a member of the weekly poker game whose wife has just thrown him out and asked for a divorce. As his finances are in as great a disarray as his apartment, Oscar invites Felix to move in, seeing it as a way of solving both their problems. Felix will have a place to live, Oscar will have some help with the rent and Felix, as fastidious with his accounting as with his housekeeping and cooking (which is to say pathologically so), can help get Oscar's life back in order.
It's a plan that looks great on paper.
And it's a production that looks great onstage. Foucheux and Shiffman make for a memorable mismatched pair and play the same-sex couple aspects with just enough weight and texture. Foucheux seems to be having a great deal of fun as the affably grouchy sportswriter Oscar while Shiffman transforms Felix's eccentricities into some sharp stage work.
Theater J has brought together a wonderful collection of actors to give life to one of American theater's great comedies. To our great benefit, this Odd Couple appears ready to work things out, if only for the sake of the audience.
WHAT WE ULTIMATELY want to believe is that such a thing could never happen again. That's part of the story of Orson Welles Oct. 30, 1938, radio play War of the Worlds. The dramatic interpretation of H.G. Wells's novel that, according to more sensationalistic media accounts, drove some listeners to the frantic belief that a Martian invasion was indeed taking place.
Welles, co-creator Howard Koch and his company, Mercury Theatre on the Air, devised the play as a series of news bulletins, run without commercial and – for a good deal of that one-hour broadcast – without identification. That's how they supposedly fooled the nation. That's how they tricked a naive public we would like to believe we have not resembled for many, many years.
SCENA's production of War of the Worlds takes audiences into the CBS radio studios where an ensemble of actors, a soundman and Welles himself are performing that Halloween eve radio play. The spotlight and attention rightly goes to Regen Wilson's Orson Welles and the wholly organic and brilliantly spontaneous company of actors who portray the Mercury Theatre crew. They joke and tease and engage in the kind of juvenile horseplay one can easily imagine really did take place when sound was all that mattered to an audience.
WAR OF THE WORLDS





To Nov. 28
H Street Playhouse
1365 H St. NE
$25-$40
703-683-2824
scenatheater.org
Each of the actors in the ensemble play multiple roles, sliding in and out of character with the same easy grace as the audio cast they are portraying. Particular recognition must go to David Paglin, Lee Ordeman and the outstanding John Tweel for their notable work in the show. While it is difficult to pinpoint exactly how it is they did so, these three individuals leave behind the feeling that there was a deep and significant backstory to the actors that they portray. In a show where so much relies on only what is seen (or, more precisely, heard) on the surface, this is a noteworthy accomplishment.
There is something completely engaging about War of the Worlds. Maybe it's that SCENA leads us to believe that we're in on the greatest Halloween prank of all time. And maybe, just maybe, it's because they're showing us just how easily such a trick could be pulled again. What a treat.