Lt. Dan Choi and a group of 12 other activists, including servicemembers and veterans, walked quietly past police officers, members of the media and onlookers on Nov. 15 to the front gates of the White House for a demonstration that ended with their arrest hours later.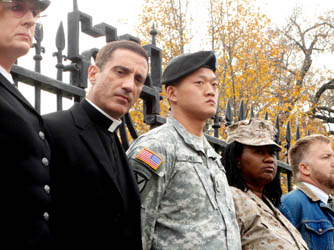 Autumn Sandeen, Father Geoff Farrow, Lt. Dan Choi, Evelyn Thomas and Justin Elzie
(Photo by Yusef Najafi)
The demonstration, a protest of President Barack Obama's perceived inaction to end the military's "Don't Ask Don't Tell" policy, came on the first day of the lame-duck session of Congress. The protest began shortly after 2 p.m. following a visit by members of Get Equal, including Choi, to the office of Senate Majority Leader Harry Reid (D-Nev.) earlier in the day.
"We have served our country valiantly to defend our freedom and justice, and now it is time for our leaders to do the same," Choi said.
Referring to President Barack Obama's inaction on DADT repeal, Choi said, "There is a loud homophobia of those with platforms, and there is a silent homophobia of those who report to be our friends and do nothing.
"Loud homophobia and silent homophobia have the same result. They must be combated and this is what we plan to do today."
Activists joining Choi at the fence were Michael Bedwell, Cadet Mara Boyd, U.S. Marine Corps Sgt. Justin Elzie, Catholic priest Fr. Geoff Farrow, U.S. Army Arab Linguist Ian Finkenbinder, Dan Fotou of GetEQUAL, Get Equal director Robin McGehee, Petty Officer Autumn Sandeen, U.S. Army Staff Sgt. Miriam Ben-Shalom, U.S. Army veteran Rob Smith, Cpl. Evelyn Thomas and Scott Wooledge. Bedwell held a Time magazine cover of Sgt. Leonard Matlovich, whose grave Get Equal had visited early in the morning on Monday.
Most of the protesters took a moment to speak after they had handcuffed themselves to the fence in front of the White House.
The demonstration marked the third time that Choi has chained himself to the gates of the White House with handcuffs.
After Choi and others spoke, police officers instructed onlookers to move behind a fence across the street from a White House in Lafayette Park as those at the fence repeatedly shouted, "I am somebody!"
From the park, Capt. James Pietrangelo II, who joined Choi for the first White House demonstration in March, used an amplifier to spread his message as protesters at the fence were taken down by officers and arrested.
"Barack Obama, either lead on civil rights or get the hell out of the White House," Pietrangelo said.
"You need to stop the discrimination right now, right here. These brave Americans are teaching you a lesson and you ought to be ashamed of yourself. They're ordinary Americans and they've done more to end discrimination than you have. You're supposedly Martin Luther King, Jr.'s legacy – start acting like it."
Chris Geidner contributed to this report.